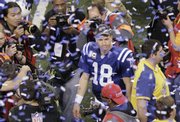 Indianapolis — This is perfect for the Indianapolis Colts: They have Peyton Manning, and they're back in the Super Bowl.
The four-time MVP threw three touchdown passes, and the Colts rallied from an 11-point, first-half deficit to beat the New York Jets, 30-17, Sunday in the AFC championship game.
The Colts (16-2) are now headed back to the NFL title game for the second time in four years and their fourth Super Bowl in franchise history. Better yet, they're heading back to their lucky city — Miami, where they've played all four of those games and won there twice.
"I thought we just kept our mouths shut and went to work this week," Manning said.
The big-talking Jets, and their equally big-talking coach, Rex Ryan, were all the incentive Indy needed Sunday.
A month ago, when the New Yorkers last came to town, Indianapolis coach Jim Caldwell pulled his starters in the third quarter and gave up a chance at a perfect season to focus on a Super Bowl run. Fans booed throughout the fourth quarter and when the Colts left the field, and some spent the past month complaining publicly.
That's over now.
Manning stayed on the field for every Colts play, and instead of blowing a lead, the Colts rallied behind their leader.
This time, fans counted down the final seconds while streamers and confetti hung in the air and flash bulbs popped incessantly, and when the official announcement was made, roars cascaded from the rafters.
"We talked about being patient against these guys," Manning said. "We knew it would be a four-quarter game."
The Colts will face New Orleans, which made its first Super Bowl after a 31-28 overtime win over Minnesota, in two weeks. Manning will play in the same venue where he beat Chicago in the rain and won the Super Bowl MVP award three years ago. Manning will be going against Saints quarterback Drew Brees, a family friend.
Players savored every precious moment. Receiver Pierre Garcon, who had 11 catches for 153 yards, both career-highs, and the go-ahead score, raised a Haitian flag to honor his family and friends who still live there. Garcon and others remained on the field long after the official celebration, mingling with family, friends and fans as the Colts redeemed themselves for this season's first loss.
Manning finished 26-of-39 for 377 yards. He became the first player in league history with seven 300-yard postseason games. That broke a tie with Kurt Warner and Joe Montana.
The Jets' magical run ended with their first road loss in six games.
New York (11-8) built a 17-6 lead, but the Jets lost running back Shonn Greene with a rib injury in the second half, and rookie quarterback Mark Sanchez was shut out over the final two quarters.
"Today wasn't our day. There's no question," Ryan said. "You have to give credit to the Colts. Obviously they're the cream of the crop right now."
Copyright 2018 The Associated Press. All rights reserved. This material may not be published, broadcast, rewritten or redistributed. We strive to uphold our values for every story published.