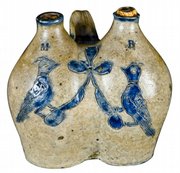 "Gemel" is the name for a special type of bottle. Two bottles with curved necks are heated and joined together to form one unit for two liquids, such as oil and vinegar. The term "gemel" is related to the word "Gemini" (twins). Gemini is a constellation with two stars that represent Castor and Pollux, twins who in Greek and Roman mythology were great fighters and patrons of horses and shipwrecked sailors. A rare 6 1/4-inch-high gemel stoneware flask was recently found. It is two jugs joined together with one handle and decorated with one large blue incised bird decoration. Gemel jugs were made by potters in Connecticut and New York in the 18th and 19th centuries. It is suggested that because of its small size and because one jug is marked "M" and the other B," it held Madeira and brandy for sauces. Crocker Farm, Inc., of Maryland auctioned this unusual piece for $24,725.
Q: I would like some information on the North Staffordshire Pottery Co. (Cobridge). I have a "Windsor Castle" plate made there.
A: North Staffordshire Pottery Co. Ltd. was established at the Globe Pottery in Cobridge, Staffordshire, England, in 1940. The company made earthenware. The pottery was taken over by Ridgways (later Ridgway Potteries) in 1952. North Staffordshire Pottery Co. was one of eight potteries that became part of Ridgway Potteries in the 1950s.
Q: Do you know where I can find insurance for jewelry? I have an extensive collection of Mexican silver jewelry, and I think it's time I insured it. But I can't seem to find information on this.
A: Homeowners' or renters' insurance typically covers jewelry up to $1,000. If your collection of jewelry is more valuable than that, you should buy additional coverage. Contact the agent who handles your homeowner or renter policy to see what you need to provide in order to cover your collection. Valuable artwork, musical instruments, silverware and other items of great value must be insured by buying additional coverage. Unique collections may require insurance from a company that specializes in insuring specific items, but any major insurer that provides homeowner's insurance can sell you an additional policy to cover your jewelry. Ask if your jewelry is covered if it is damaged or lost or stolen, if there is a deductible and if the policy provides replacement value. A professional appraisal of your jewelry may be required.
Q: I have an old, clear, half-pint canning jar that's about 8 inches tall. Its flat glass lid is marked "Whitall, Tatum & Co., Philadelphia, New York, Pat. June 11, 1895." The closure is a heavy metal yoke-shaped clamp with a horizontal wheel for tightening. Does it have any value?
A: There is an avid group of collectors who hunt for antique fruit jars, also called canning jars. Yours obviously was first made in 1895 or later. Whitall, Tatum & Co. was the first glass factory founded in the United States. It operated in Millville, N.J., from the early 1800s until 1938, manufacturing bottles and jars of all types. Your jar, one of five types Whitall made, sells for $50-$75 today.
Q: I bought a hutch at an estate sale 20 years ago. It appears to be old and its painted surface is original. "Jasper Cabinet Co." is stamped in one of the drawers. When was that company in business?
A: Jasper Cabinet Co. is still in business in Jasper, Ind. It can trace its history back to 1904, but was formally incorporated under its current name in 1928. The company changed ownership a few times before temporarily closing in 2002. An Indiana investment group, including some former employees, then acquired the company and reopened it in 2005. Jasper Cabinet Co. is best-known for its desks, chests, breakfronts, secretaries, curio cabinets, entertainment units and gun cabinets. It's likely your hutch dates from either before or soon after World War II.
Copyright 2018 The Lawrence Journal-World. All rights reserved. This material may not be published, broadcast, rewritten or redistributed. We strive to uphold our values for every story published.