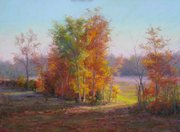 The New Show is all about 'new' - new year, new decade - and Signs of Life is welcoming twelve new artists to its gallery as well as new works from a few current artists. The show will include a variety of subjects and media - oil, watercolor, mixed media, bronze - as well as a variety of styles from traditional to contemporary, landscapes to abstracts.
The New Show opens tonight with a reception from 7-9pm. Featured artists include: Janet Bailey, Margaret Buie, Ann Kuckelman Cobb, Missy Hamilton, John and Elli Milan, Doug Osa, Ruthie Osa, Jean Terry, Stephen Johnson, Michael Walsh, and Darin White. We will also have new works from Jim Brothers, Kim Casebeer, Justin Marable, Charlotte Seifert, Heather Smith-Jones, and Mark Weber.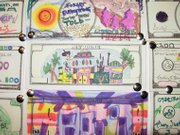 The Spencer Museum of Art, in partnership with the Lawrence Arts Center, brings artist Mel Chin to Lawrence this weekend for a special presentation on his past and present work and his unique conceptual approach. Most recently Chin has gained national attention for his Fundred Dollar Bill Project, an innovative artwork comprising millions of drawings and created in support of support Operation Paydirt, an extraordinary nationwide art/science project uniting 3 million children and other community members to make safe the lead polluted soil of New Orleans that places thousands of children at risk for severe learning disabilities and behavioral problems, including violent crime.
Chin will speak about his work at 7 PM Friday at the Lawrence Arts Center. A reception will follow the lecture. The special Fundred Project armored truck will be in attendance.
Jules Massenet's opera "The Sorrows of Young Werther" tells the sad tale of rejection and isolation that consumes the sensitive artist Werther, who is madly in love with Charlotte, but cannot have her as she is betrothed to another. The opera is based on the German novel of the same name, penned by Johann Wolfgang von Goethe in the late 1700's.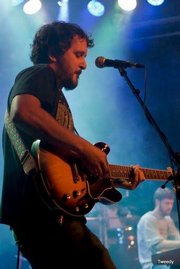 Sonic Sutra is a new Lawrence outfit fronted by songwriter and guitarist Billy Wassung, who has been working on a new collection of high energy jam-rock songs. He's joined by drummer Matt Gader (also the guitar player of Cosmopolitics), bass player Jon Studtmann, and keyboardist Blake Clemmer. Singer Courtney Rose Smith (Majestics Rhythm Revue) rounds out the quintet with her vocal harmonies.
Brother Bagman brings the funky jam-rock sounds from Kansas City.
Hidden Pictures is coed indie-pop with lots of harmonies and hooky melodies.
The Caves is tuneful and melancholy folk-rock that will make you sway and smile and maybe hold hands with a stranger.
The Shadowbox #1- The Caves from Gnarly Enterprises on Vimeo.
oh!mr. and SNEAKHYPE.com present JOCKIN' MY FRESH featuring performances by Stik Figa, D/Will, Greg Enemy, and special guest DJ Max Justus.
Charisma and ingenuity have been Stik Figa's ace-in-the-hole since his days battle-rapping in the Topeka High cafeteria. With a no-coast style that's equally enamored with the crescent-fresh mainstream (Kanye West, Lupe Fiasco, T.I.) and the booty-shaking fringe (Cool Kids, Santogold), Figa is Southerner by blood and a Midwesterner by choice. As Stik Figa puts it: "I'm very well-rounded for being a square."
Kansas City's D/WILL makes fresh beats and rhymes inspired by artists like Alchemist, Pete Rock, J Dilla, Dangermouse, and DJ Shadow. He recently produced a project called "Human Decency Prevails," available as a free download on his MySpace.
If you think local hip-hop has fallen off the map, you probably haven't heard Greg Enemy yet. The 21-year-old Kansas City rapper and producer comes correct on his debut self-titled EP and recent "Babylon" EP (a collaboration with Stik Figa). His versatile style places a premium on farm-fresh beats and sharpshooter rhymes. "Every single rhyme of mine will prolly make you move," Enemy boasts on his song "The Protocol." Hell, it's hard to argue with that.
Knock- RTL from D/WILL on Vimeo.
Most folks would agree that the original 1979 "Alien" is among the best horror movies ever made. (It is currently ranked at No. 2 behind "Psycho" on IMDB's all-time horror charts.) And most folks have probably seen the Ridley Scott masterpiece ... on video or DVD or iPhone or whatever. Now is the chance to witness Sigourney Weaver in all her monster-throttling glory in an actual theater when Midnight Movie Madness presents "Alien." Remember: "Sometimes the scariest things come from within."


And new in movies...
The Messenger
Ben Foster and Woody Harrelson portray Army Casualty Notification officers, delivering tragic news to everyday New Jersey families within 24 hours of the soldier's death. This is a poignant war movie, but it's also a buddy movie with a difference. The characters grow in ways that surprise us while remaining consistent with their natures.
The Lovely Bones
Peter Jackson's mystical thriller is about closure, but offers little of that. Though properly chilling when it's supposed to be, it's a film whose effects, script and performances keep it at arm's length when it should be moving. Saoirse Ronan stars as a murdered girl stuck in purgatory, watching her family struggle and splinter over her death.
Copyright 2018 The Lawrence Journal-World. All rights reserved. This material may not be published, broadcast, rewritten or redistributed. We strive to uphold our values for every story published.