Telethon tonight
The star-studded "Hope for Haiti" benefit will be broadcast from New York, Los Angeles, London and Haiti at 7 p.m. today on all the major networks, as well as MTV, VH1, CMT, BET, PBS, CNN, Bravo, and a host of other networks. In addition, the telethon will be streamed live on Web sites including YouTube, MySpace and AOL.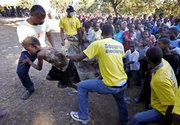 Port-au-Prince, Haiti — The rubble from the epic earthquake now deathly quiet, search-and-rescue teams packed their dogs and gear Thursday as the focus shifted to keeping injured survivors alive, fending off epidemics and getting help to hundreds of homeless camps.
"We're so, so hungry," said Felicie Colin, 77, lying outside the ruins of her Port-au-Prince nursing home with dozens of other elderly residents who have hardly eaten since the earthquake hit on Jan. 12.
As aftershocks still shook the city nine days later, aid workers streamed into Haiti with water, food, drugs, latrines, clothing, trucks, construction equipment, telephones and tons of other relief supplies. The international Red Cross called it the greatest deployment of emergency responders in its 91-year history.
But the built-in bottlenecks of this desperately poor, underdeveloped nation and the sheer scale of the catastrophe still left many of the hundreds of thousands of victims without help. The U.S. military reported a waiting list of 1,400 international relief flights seeking to land on Port-au-Prince's single runway, where 120 to 140 flights were arriving daily.
Four ships have managed to unload cargo at the capital's earthquake-damaged port, holding out the promise of a new avenue for getting aid to the city.
The picture was especially grim at emergency medical centers, where shortages of surgeons, nurses, their tools and supplies have backed up critical cases.
"A large number of those coming here are having to have amputations, since their wounds are so infected," said Brynjulf Ystgaard, a Norwegian surgeon at a Red Cross field hospital.
Food was reaching tens of thousands, but the need was much greater.
The Haitian government-estimated toll is 200,000 dead, as reported by the European Commission. It said 250,000 people were injured and 2 million homeless in the nation of 9 million people.
Copyright 2018 The Associated Press. All rights reserved. This material may not be published, broadcast, rewritten or redistributed. We strive to uphold our values for every story published.