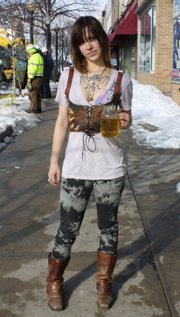 Lisa Roberts
Age: 25.
Sign: Pisces.
Time in Lawrence: 20 years.
Hometown: Lawrence.
Occupation: Buyer and shopkeep at Arizona Trading Company.
What were you doing when scouted: Working at Arizona Trading Company tagging clothes.
How would you describe your style: Townie trash meets Rihanna's spirit
animal.
Who are your fashion influences: Klaus Nomi, drunk housewives that pop pills in their underwear, deer hides and Rihanna, of course.
What are your favorite fashion trends: Leather, fur, mixing gold and silver, hats and layered legwear.
What are your least favorite fashion trends: Polyester kimono blouses, capri pants, contrived punk rock style and Ugg boots worn with no pants and oversize shirts.
What would you like to see more of in Lawrence: House shows, a unified fashion scene with designers and fashion shows, a burlesque troupe, a photo booth and relentless fun.
What would you like to see less of in Lawrence: Johnson County license plates, cars period, frat boys and KU athletic apparel.
People say I look like: When my face was swollen after a bad bike wreck, people said I looked like Maggie Gyllenhaal.
Tell us a secret: I only wash my hair once a month. I'm growing it out, and washing it less keeps it healthy and strong.
Shirt: Truly Madly Deeply, purchased at ATC three months ago.
Pants: Pinkney Thurman, purchased at Hobbs two months ago.
Boots: Frye, found in the dumpster by Matt Ratt and borrowed from Krista Suter.
Jewelry: Various items from ATC, Tijuana, Goodwill, Creation Station and Goldmakers.
Vest: Vintage, purchased at the Antique Mall yesterday.
Copyright 2018 The Lawrence Journal-World. All rights reserved. This material may not be published, broadcast, rewritten or redistributed. We strive to uphold our values for every story published.