Photo Gallery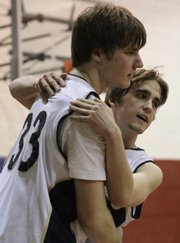 Veritas vs. Berean Christian
Photos from the boys and girls games featuring Veritas and Berean Christian.
Eudora — Finding himself in a particularly nerve-wracking situation Tuesday night — at the free-throw line in the final seconds of a tie game against Berean Christian — Veritas Christian guard Nate Scott turned to the man upstairs for assistance.

"I was hoping God would help me out," said Scott, "because I was pretty nervous."
It seemed to work out. Scott connected on back-to-back free-throw attempts with 5.6 seconds left, and Berean missed a three-pointer at the buzzer to give the Eagles a 42-40 victory at the Eudora Community Center.
Elijah Penny finished with a game-high 14 points, Scott added 10, and the Eagles defense forced nine second-half turnovers to improve to 5-5 this season after a disappointing 0-3 start.
"There was a lot of strategy going on," said Veritas coach Gary Hammer, who instructed his team to institute a two-minute stall at the end of the first quarter after early foul trouble limited some of his post players. "I was just hoping I was making the right decisions, and it worked out tonight."
Following a sloppy second quarter, in which Berean scored 12 straight points, Veritas took a lead and maintained it throughout the next quarter and a half. But a 5-0 Berean run to open the fourth quarter pulled the Brave to within two, and an Alec Hollenbeck field goal tied the game at 40 with 2:32 left.
The Eagles bore down when they needed to, however, getting a key stop late to secure a victory and take a bit of momentum into Saturday's boys-girls road doubleheader against Topeka Heritage.
"It was an exciting game," said Hammer. "I think it was exciting for everyone in the gym."
Berean girls 50, Veritas 46: Despite trailing by 16 heading into the fourth quarter, the Veritas girls team launched a furious comeback attempt that came up just short in the evening's first game.
Kayli Farley scored 19 of her game-high 23 points in the fourth quarter, but the Eagles couldn't overcome a 23-point outing by Berean forward Brandi Miller, dropping to 1-8 this season.
"I was very proud of that late surge," said Veritas coach Kevin Shelton. "That was a great game for our team — the best game we've played so far."
Copyright 2018 The Lawrence Journal-World. All rights reserved. This material may not be published, broadcast, rewritten or redistributed. We strive to uphold our values for every story published.