Topeka — State Sen. Tom Holland, D-Baldwin City, said he may run for governor.
"I'm actively considering it," Holland said Wednesday before heading to a Senate committee meeting.
He said he would make a decision soon.
Just 10 months from the November election, the Kansas Democratic Party is in need of a candidate to take on the likely Republican nominee, U.S. Sen. Sam Brownback.
9:11 a.m.
The Kansas Legislature is working on a resolution urging the federal government to move quickly in funding construction of a bio-terrorism lab in Manhattan.
In 2008, the Department of Homeland Security selected Manhattan as the location for the proposed $725 million National Bio and Agro-Defense Facility, to replace an aging lab at Plum Island, N.Y.
The resolution under consideration calls for the federal government to sell the Plum Island lab and urges Congress "not to delay any appropriations for the construction of the NBAF."
If approved by the Legislature, the resolution would be forwarded to President Barack Obama, several Cabinet secretaries, the Kansas congressional delegation and Gov. Mark Parkinson.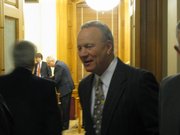 Copyright 2017 The Lawrence Journal-World. All rights reserved. This material may not be published, broadcast, rewritten or redistributed. We strive to uphold our values for every story published.