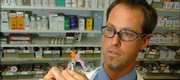 An outbreak of H1N1 Swine Flu was reported in Mexico in April 2009. By the end of May, it had spread across the U.S., with all 50 states reporting cases.
The Lawrence-Douglas County Health Department has rescheduled H1N1 vaccination clinics in Eudora and Baldwin City that were canceled earlier this month because of a snowstorm.
The clinics will be:
• Wednesday — from 4 p.m. to 6:30 p.m. at Eudora Middle School, 2635 Church St.
• Thursday, Feb. 4 — from 4:30 p.m. to 6:30 p.m. at Baldwin High School, 415 Eisenhower St.
To fill out a consent form or for more information about the free immunization, visit the department's Web site at www.ldchealth.org or call 843-3060.
The vaccine also is being offered on a walk-in basis at the department's clinic on the first floor of the Community Health Facility, 200 Maine. Those hours are: 8:30 a.m. to 4:30 p.m. Monday through Friday, except it opens at 9:30 a.m. Tuesdays and is open until 8 p.m. Mondays.
Copyright 2017 The Lawrence Journal-World. All rights reserved. This material may not be published, broadcast, rewritten or redistributed. We strive to uphold our values for every story published.