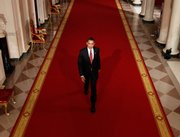 Washington — There will be no parade this time for President Barack Obama. No grand speech from the west front of the Capitol, no fireworks, no glittery balls to kick off the second year of his presidency on Wednesday, as there were for the first.
Just a lot of hard work, an agenda full of unresolved problems and perhaps a more sober sense of just what's possible for the 48-year-old president, who's a little grayer now than he was a year ago.
He faces a country that's struggling to find its footing after a staggering recession, a nation that's starting to show signs of growth but is still losing jobs. He looks out at a world where he's made precious little progress, still trying to get Israelis and Palestinians to the peace table, and to get the North Koreans to give up their nuclear weapons and the Iranians to abandon their own nuclear program.
He'll tackle those and other challenges with far less political capital than he had a year ago. His approval rating has dropped sharply and is the second lowest in 50 years for any president entering his second year, while his disapproval rating is the highest ever at this point in a presidency.
As a result, his fellow Democrats approach midterm congressional and statehouse elections this year nervous about being tied too closely to his agenda.
Obama may have to change his to-do list in his sophomore year. If he gets a health care bill in coming weeks, he'll pivot to jobs and the economy. Then a new budget, and changes in taxes.
Proposals such as the "cap-and-trade" plan to limit the emissions that cause global warming probably will have to wait. So, too, will overhauling immigration law.
"They have to rethink some things, recalibrate and refocus. They tried to do too much. And he's taken some hits as a result," said Steve Schier, a political scientist at Carleton College in Minnesota.
He'll have to navigate not only through a wary Congress but also amid a backlash among many Americans against his agenda, notably his health care proposal.
"The conventional wisdom a year ago was that the tectonic plates had shifted, that Obama could win and anything was possible," said Michael Franc, the vice president of government relations at the Heritage Foundation, a conservative policy institute.
Yet polls show that, despite the 2008 election, Americans remain more moderate to conservative than liberal, and that creates a headwind against Obama's agenda for a more activist national government.
"Addressing that gap between where he wants to take the country and what the American people will tolerate is his biggest single challenge," Franc said.
Obama aides said the president has done well in a very difficult economy, and predicted that he'll do better as the economy rebounds.
"We are happy with what we've achieved, but we're not satisfied with what we've accomplished," senior Obama adviser David Axelrod said in an interview with several reporters, arguing that Obama succeeded in keeping the economy from sinking into a depression while also passing such laws as pay equity for women.
He acknowledged that Obama enters his second year with less political capital, but blamed that on the economy and insisted that both will come bouncing back.
In that environment, here's what to watch for on top issues in the coming year:
The economy
With unemployment rising, Obama will be under growing pressure to find a way to create jobs, either through government programs or other means, such as a tax cut.
Axelrod said that Obama will seek tax cuts for small business to help them create jobs, press banks to make more loans to small businesses, support new spending to hire people to work on infrastructure projects and find more money for renewable energy to create jobs.
Health care
Obama is pressing for a compromise between the House of Representatives and the Senate that would expand health coverage to many of the nation's uninsured, require most people to buy a minimum amount of insurance, offer help to those who can't afford coverage and prohibit insurance companies from denying coverage or charging people more because of pre-existing conditions.
If Democrats retain the Massachusetts U.S. Senate seat once held by the late Edward Kennedy in Tuesday's special election — and thus the 60 seats needed to get a final plan through the Senate — it's very likely that the president will sign a historic health care plan into law.
Afghanistan and Pakistan
This will be the second year that Obama escalates the war in Afghanistan, sending 30,000 to 35,000 more U.S. troops to join the 70,000 who are there already. There were 31,000 there the month before he took office.
As he works to stabilize the Afghan government and fight al-Qaida there, he also must press against al-Qaida terrorists and their allies in Pakistan.
U.S. policy calls for working with the Pakistani government rather than invading its territory, but Pakistan hasn't been as aggressive as the U.S. would like, and American drone strikes on terrorist targets there have raised tensions.
Terrorism
After missing his one-year deadline to close the prison at Guantanamo Bay, Cuba, Obama still faces plenty of challenges to getting it done.
He'll encounter congressional resistance as he seeks to prepare an Illinois state maximum-security prison as the new home for Guantanamo detainees who are facing military commissions or indefinite detention. He'll face domestic pressures from all sides over everything from limiting civil liberties to protecting the homeland from further attacks.
Copyright 2018 The Lawrence Journal-World. All rights reserved. This material may not be published, broadcast, rewritten or redistributed. We strive to uphold our values for every story published.