Source: Deal near for O'Brien to leave NBC
Los Angeles — NBC neared a deal Friday with "Tonight" host Conan O'Brien to leave the network, freeing Jay Leno to reclaim the late-night show he stewarded for 17 years, according to a person familiar with the negotiations.
Top NBC Universal executives and representatives for O'Brien on Friday were close to settling details of his departure, said the person, who lacked authority to discuss the issue and spoke on condition of anonymity.
Universal Studios president and COO Ron Meyer was among those involved in the talks, the person said.
The focus has been on how much O'Brien, who has time left on his NBC contract, would be paid for leaving and what limits NBC may put on his future employment at another network.
The progress in negotiations didn't stop O'Brien from once again hammering NBC in his "Tonight" monologue.
"In the press this week, NBC has been calling me every name in the book. In fact, they think I'm such an idiot they now want me to run the network," O'Brien said Friday.
Madonna gives $250K to Haiti, asks for more
New York — Madonna said Friday that she has donated $250,000 toward Haitian earthquake relief — and she encouraged her fans and friends to match her.
The pop queen said in a prepared statement that her prayers are with the people of Haiti and that she donated to Partners In Health, a longtime health care provider there.
Not On Our Watch, an advocacy and grantmaking group founded by George Clooney, Brad Pitt and others, on Friday donated $1 million to Partners in Health.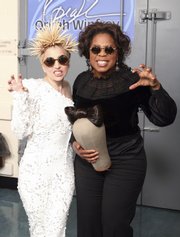 Lady Gaga on Oprah after concert canceled
Chicago — Pop star Lady Gaga performed on "The Oprah Winfrey Show" — a day after calling off a concert at Purdue University because of an undisclosed illness.
The singer showed no apparent signs of illness as she performed a medley of her hits on the live show Friday. She wore a black outfit studded with spikes and, at one point, swung a gold, spiked ball on a chain into the windshield of a taxi on the stage.
The concert cancellation was announced from the stage Thursday night after opening acts Jason Derulo and Semi Precious Weapons had already performed.
A statement released by the school from Lady Gaga's tour management said she'd suffered a sudden illness and that medical personnel had advised her not to perform.
Iglesias quit 'rabbit'-like sex life 15 years ago
Montevideo, Uruguay — Julio Iglesias has a reputation as a famous lover, but he told a concert audience he abandoned his prolific sex life 15 years ago.
During a performance in Punta del Este, Uruguay, he said that when he first performed there at age 24, he was "like a rabbit."
The singer added that he had a "superstition, a quirk or whatever, that I couldn't go onstage to sing if I didn't make love first."
But the 66-year-old singer says "I gave that up completely 15 years ago."
Copyright 2018 The Associated Press. All rights reserved. This material may not be published, broadcast, rewritten or redistributed. We strive to uphold our values for every story published.