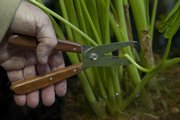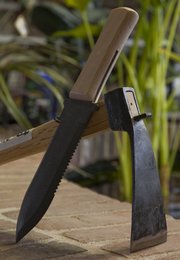 The right tool for the right job makes all the difference in the garden, but sorting out the always-in-my-back-pocket tools from the sits-in-the-corner-unused tools can be a real challenge to both new and experienced gardeners.
To make tool selection a little easier for the coming gardening season, I did a little scouting and discovered some things I did not even know I needed alongside my old standbys. Here are some of my favorites and the favorites of some local professionals:
• Hori Hori knife, Bachi gata hoe and other Japanese tools - My only regret about purchasing a Hori Hori knife a few years ago is that I waited so long to do it. The knife has a slim trowel-like blade with one serrated edge and is styled for all forms of cutting and digging. Now my Hori Hori knife and I are inseparable, and I am ready to try the Bachi gata hoe that looks a little like a mattock with a broad blade perpendicular to the handle.
Susan Davis, of Water's Edge, 847 Ind., is a big fan of the Hori Hori and Bachi gata, too.
"The other thing I like about the Japanese tools is that the Japanese seemed to consider both form and function. The tool itself is really well-balanced," she says.
• Pruners - Ask a gardener about their favorite brand, and you will get plenty of different answers, but Ann Peuser of Clinton Parkway Nursery, 4900 Clinton Parkway, offers the best advice. "If you pick a pair that fits you, that's half the battle."
Pruners with curved blades (also known as bypass pruners) offer the most cutting power and are the least damaging to plant tissue, and a good pair will last a lifetime if they are well-maintained. My forearm muscles prefer pruners with a rotating handle (that turns with your hand as you cut), but I have classic sets in my collection too.
• Victorinox Cut n' Hold floral shears - The makers of Swiss Army knives have a few tools for the garden as well, and even though I have some of the other items, I would not have purchased these shears if I had not seen them in action.
"The idea is that you have your basket in one hand and your shears in the other," Davis says as she clips a flower one-handed with the shears. Thin metal straps attached to the side of the blades grip the flower stem, allowing the user to transfer the bloom directly from the plant into a basket or vase.
• Folding hand saw - Pruning saws come with about as many recommendations as pruners, but small folding models are great for removing branches that are a little too big for the pruners.
• Watering wands - Improved models include a shut-off device at the handle that Greg McDonald of Sunrise Garden Center, 15th and New York streets, says will help with water conservation. He also recommends (and I agree) wands with longer handles. Watering wands break the stream of water from the hose and allow gardeners to water more easily from a standing position.
• Quick connectors for garden hoses - If you have ever had two hoses connected and wished you could disconnect them without turning off the water, invest in an inexpensive brass quick connector. I also like to attach my watering wand with a quick connector, allowing me to remove a hose without returning to the hydrant.
• Shovels, rakes, hoes, and cultivators are also on the garden tool must-have list - They are invaluable for a number of activities and available in a multitude of shapes and styles. I think I have a shovel to cover just about any job.
Jennifer Smith is the Douglas County Extension Agent - Horticulture for K-State Research and Extension and can be reached at 843-7058.
Copyright 2018 The Lawrence Journal-World. All rights reserved. This material may not be published, broadcast, rewritten or redistributed. We strive to uphold our values for every story published.