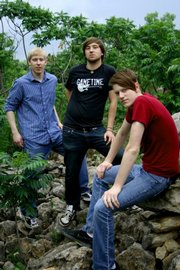 Lawrence emo/punk band American Low Life will celebrate the release of its "In Vino Veritas" EP tonight at an early all-ages show with support from From Quiet Arms (Lawrence), Building Rome (St. Louis), and The Head-On Collision (Lawrence). The group has preformed more than 50 shows during the past two years and is planning a summer tour in support of the EP.
Heidi Van's Hybrid Theatre company is fresh back from a tour of Ft. Lauderdale to perform in Lawrence. Cost to attend is a "hard C" — canned goods or currency. Canned goods will be donated to the Lawrence Community Shelter.
The Coppelia Project, a clown ballet on tour through the Lawrence Arts Center, explores issues of perfection and acceptance as an odd inventor, Dr. Coppelius (Ric Averill) brings several Clown Ballerinas to life, only to be ultimately unhappy with his creations. A young Delivery Boy acts as a foil to the Doctor, discovering the unique qualities of each "automaton." Clown Ballerina Vanessa Severo's actual physical disability is showcased as part of the Doll's challenge for the Doctor, and audiences learn with the Boy and Dr. Coppelius that one must accept people as they are.
Fort Collins, Colo., band Euforquestra is known for a diverse sound that ranges from reggae, cub, afrobeat and samba to ska, funk and jazz. Euforquestra (pronounced like combining the words euphoria and orchestra) will import its dynamic live show tonight in support of its new album "Soup" (currently available as a free download on the group's website).
The Irietions (pronounced eye-ray-shuns) bring a mellow vibe to any evening, singing about herbs and positivity with the conviction of Jamaican shamans. These five Lawrencians are already deeply ingrained in the local music community after only a year-and-a-half on the scene. Check out our podcast interview with the band.
Lawrence's neo-rave crew Cicada Rhythm is the host of this fresh and funky event that both club crashers and headphone mashers can groove to. Headliner Eskmo (San Francisco) has been producing and performing live electronic music since 1999, blending thick, floor-creaking bass with oozing melodies and syncopated rhythms. In 2009 he released "ESKMO: Hypercolor," was approached by Warp to do a Bibio remix, and released his first single for the Planet Mu label.
The black majik of Black Gasoline will have you believing that Wichita is a lot cooler than it actually is (no offense, of course, to our beloved Wichita-based brothers and sisters). Channeling the muscular chops of Deep Purple and Thin Lizzy, the cornbred quintet fits comfortably alongside like-minded dope rockers like Queens of the Stone Age and High on Fire.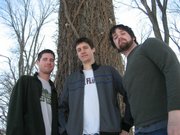 Part rock, part fusion, and all "freak nasty," Lawrence's Cosmopolitics bends strings and minds while laying down thick instrumental grooves. The group melds the nuances of each member's range of influences, including Rush, Frank Zappa, Tool, Yes, Phish, Mr. Bungle, Umphree's Mcgee, and many more.


And new in movies...
The Bad Lieutenant: Port of Call - New Orleans
Werner Herzog's film - which shares a title and little else with Abel Ferrara's 1992 "Bad Lieutenant" - about a corrupt, drug-addled cop is a luridly entertaining police noir that boasts a ridiculously entertaining performance from Nicolas Cage. When Cage is good, he is very, very good, but when he is bad, he is even better.
The Book of Eli
A meteorite and a subsequent war 30 years earlier has scorched the earth. Across this charred land strides Eli (Denzel Washington), a mysterious man who carries the last remaining Bible, along with a knife and a shotgun. The Christian theme notwithstanding, the film is really only a sepia-colored, shoot-'em-up Western.
Copyright 2018 The Lawrence Journal-World. All rights reserved. This material may not be published, broadcast, rewritten or redistributed. We strive to uphold our values for every story published.