Photo Gallery
Earthquake strikes Haiti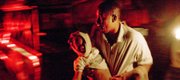 A 7.0 magnitude earthquake occurred 10 miles southwest of Port-au-Prince on Jan. 12, causing widespread devastation in Haiti's capital and throughout the country.
Options for charitable donations to quake victims
Some local businesses and charities are stepping up efforts to help people donate to the Haiti relief effort.
Texting service
Two major charitable organizations are accepting $10 pledges via text message. To donate to the Red Cross, text "HAITI" to 90999, and for the Salvation Army, text "Haiti" to 52000. In both cases, the donation will appear on the user's next cell phone bill.
Local Donation Sites
People's Bank will accept donations to the Red Cross during operating hours and in the night depository after hours through Feb. 15. All donations of more than $5 are tax-deductible. In Lawrence, Peoples Bank branches are at 4831 W. Sixth St., 3045 Iowa and 2220 Harper St., Suite A.
Also, Pinnacle Career Institute is offering chair massages from 9 a.m. to 12:30 p.m. today and Monday at Dunn Brothers Coffee, 1618 W. 23rd St., and Half Price Books, 1519 W. 23rd St. All proceeds are being donated to the International Relief Fund through the American Red Cross.
Port-au-Prince, Haiti — Doctors and search dogs, troops and rescue teams flew to this devastated land of dazed, dead and dying people Thursday, finding bottlenecks everywhere, beginning at a main airport short on jet fuel and ramp space and without a control tower.
The international Red Cross estimated 45,000 to 50,000 people were killed in Tuesday's cataclysmic earthquake, based on information from the Haitian Red Cross and government officials. Hard-pressed recovery teams resorted to using bulldozers to transport loads of dead.
Worries mounted, meanwhile, about food and water for the survivors. "People have been almost fighting for water," aid worker Fevil Dubien said as he distributed water from a truck in a northern Port-au-Prince neighborhood.
From Virginia, from France, from China, a handful of rescue teams were able to get down to work, scouring the rubble for survivors. In one "small miracle," searchers pulled a security guard alive from beneath the collapsed concrete floors of the U.N. peacekeeping headquarters, where many others were entombed.
But the silence of the dead otherwise was overwhelming in a city where uncounted bodies littered the streets in the 80-degree heat, and dust-caked arms and legs reached, frozen and lifeless, from the ruins. Outside the General Hospital morgue, hundreds of collected corpses blanketed the parking lot, as the grief-stricken searched among them for loved ones. Brazilian U.N. peacekeepers, key to city security, were trying to organize mass burials.
Patience already was wearing thin among the poorest who were waiting for aid, said David Wimhurst, spokesman for the U.N. peacekeeping mission.
"They want us to provide them with help, which is, of course, what we want to do," he said. But they see U.N. vehicles patrolling the streets to maintain calm, and not delivering aid, and "they're slowly getting more angry and impatient," he said.
Copyright 2018 The Associated Press. All rights reserved. This material may not be published, broadcast, rewritten or redistributed. We strive to uphold our values for every story published.