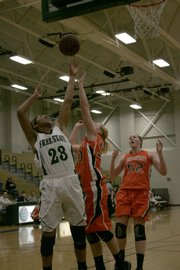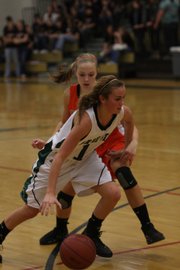 It wasn't even time for tipoff, but Free State High girls coach Bryan Duncan had a gut feeling Chantay Caron was going to have a big game Tuesday night.
"Chantay just had a certain look in her eyes," Duncan said. "I could tell right from the beginning. She just had that demeanor and that little bit of swagger to her that you could tell she was going to be great."
The senior delivered on her coach's hunch. Caron scored as many points as the visiting team combined in Free State's 45-22 home hoops victory over Shawnee Mission Northwest.
Caron didn't miss in the first quarter (2-of-2 from the field, 4-of-4 from the line). She scored every bucket on a layup or a free throw. The Cougars seemingly knew what was coming, but still couldn't stop Caron's relentless pursuit to the basket.
"I really like to drive. I'm not a shooter," said Caron, whose 22 points came off 7-of-12 shooting and 8-of-10 free-throw shooting. "Sometimes, I drive all the time, no matter if there's a lane or not."
Caron and senior Ashli Hill dominated the low post, combining for 34 points and 22 rebounds.
"Chantay was just frying that girl that was guarding her," Hill said. "She played amazing as usual. I love having her to dump the ball off to. I know she's going to score."
Free State, which held a 23-10 advantage at halftime and led comfortably the rest of the night, also made it a nightmare for SM Northwest to score. Proof is in the two points the Cougars put on the scoreboard in the second quarter. Or perhaps their dreadful 18.6 percent field-goal percentage, off 8-of-46 shooting.
"We just smashed them defensively," said Hill, who scored 12 points and grabbed 15 boards. "Our defense gave us offense."
It became clear that to beat the Firebirds (5-2), Sunflower League teams must neutralize Caron and Hill. SM Northwest (2-5) couldn't do it.
"It's still early in the season, but I would like to think that when those two play like they did tonight, it's going to be awfully hard for anybody to match up against us," Duncan said.
Free State will host Olathe North at 6 p.m. Friday.
Copyright 2018 The Lawrence Journal-World. All rights reserved. This material may not be published, broadcast, rewritten or redistributed. We strive to uphold our values for every story published.