Photo Gallery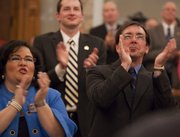 State of the State Address
By the numbers
15,000 — Dollars the governor's budget office says it saved by not printing budget books.
6.3 — The state sales tax rate under Gov. Mark Parkinson's tax increase proposal.
12— Applause interruptions during Parkinson's State of the State speech.
1 — Mention of the Lawrence mobile home that Parkinson and his wife, Stacy, lived in while going to KU Law School.
0 — Number of lawmakers who applauded when Parkinson outlined his tax increase proposal.
Topeka — Facing a historic budget crisis, Gov. Mark Parkinson on Monday proposed a temporary one-cent increase in the state sales tax and an increase in the state tax on cigarettes of 55 cents per pack.
After cutting nearly $1 billion from a $6 billion budget over the past year, Parkinson said further cuts would do serious damage to Kansas.
"We are now cutting into the bone," he said during the State of State address to start the 2010 legislative session. "Everything we have built is at risk," he said.
He said that without additional tax revenue, more cuts would have to be made to schools, social services, universities and prisons.
But Parkinson's tax proposal got a chilly reception, and quickly drew sharp criticism from Republicans, the Kansas Chamber, and Americans for Prosperity, an anti-tax group.
House Majority Leader Ray Merrick, R-Stilwell, delivered a stinging rebuke. "In a shameful change of course from when he took office last year, the governor has abdicated his duty to the taxpayers of Kansas by refusing to offer a balanced budget and demanding the largest tax increase in Kansas history."
But Parkinson's fellow Democrats and even some Republicans were more sympathetic.
State Rep. Tom Sloan, R-Lawrence, said protecting the state's education system from further cuts is of utmost important. "Our education system is the foundation of all of our past successes and our future prospects," Sloan said.
He declined to sign on to Parkinson's proposal, but said more tax revenue is needed, and he praised the governor for putting a plan before the Legislature.
Sloan said Parkinson's 30-minute speech, which was delivered without a teleprompter or notes, was the most inspiring State of the State address he has heard in his 16 years in the Legislature.
Parkinson reminded legislators of the tough decisions made by generations of Kansans that enabled many to attain the American Dream.
"Our ancestors worked too hard to build what we have. It is our turn to fight and it is a fight worth fighting," he said.
House Democratic Leader Paul Davis, of Lawrence, said Parkinson laid out the choices facing the Legislature — harmful budget cuts or tax increases. He said a majority hasn't formed for either position yet. "The Legislature has its work cut out for it," Davis said.
He said House Republican leadership opposition to any tax increase was unfortunate. With further cuts, nearly every school district in Kansas will have to close some schools, he said.
Under Parkinson's tax plan, the state sales tax would increase from 5.3 cents per dollar to 6.3 cents per dollar for three years and then fall back to 5.5 cents per dollar, with that extra two-tenths of a cent dedicated to a new highway plan.
He also called on lawmakers to increase the state tax on cigarettes from 79 cents per pack to $1.34 per pack, which is the national average. He said the increase would bring in needed revenue and deter young people from starting to smoke.
Even after five rounds of budget cuts in 2009, the Legislature still faces a $400 million revenue shortfall for the fiscal year that starts July 1.
The proposed sales tax increase would raise $308 million, while the cigarette tax increase would raise $70 million.
Under Parkinson's plan, public schools would receive some of the funding that has already been cut, raising the base state aid per pupil from $4,012 to $4,062. At one point, the level was around $4,400 per student.
Higher education, which has been cut more than $100 million, would get back $10 million. And a 10 percent cut in Medicaid, ordered by Parkinson in November, would be reversed.
The 10 percent Medicaid cut has become extremely unpopular because it also costs the state tens of millions of dollars in federal matching funds. House Speaker Mike O'Neal, R-Hutchinson, said Republicans are investigating whether there is a way to cut the budget without taking away state dollars that draw matching federal funds.
Copyright 2017 The Lawrence Journal-World. All rights reserved. This material may not be published, broadcast, rewritten or redistributed. We strive to uphold our values for every story published.