Topeka — A Kansas legislator and law enforcement officials on Monday urged passage of a bill to make illegal K2, an herbal mixture that some say produces a marijuana-like high.
"This is fast becoming the new drug of choice in the schools," state Rep. Rob Olson, R-Olathe, said.
K2 has been marketed as incense in Lawrence and other cities, but officials say people are smoking it.
Johnson County forensic scientist Jeremy Morris said the the chemicals targeted by the legislation are actually more intoxicating than tetrahydrocannadbinol, or THC, which is the ingredient in marijuana that produces a high.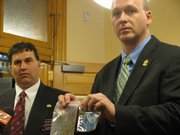 Morris and other Johnson County law officers also questioned whether the chemicals could have dangerous, longterm health effects.
Olson said that Kansas is the first state in the nation to attempt to ban the chemicals, which are known as JWH-018 and JWH-073.
House Bill 2411 would make possession, use, sale and possession with intent to sell K2 and other products containing synthetic cannabinoids illegal in Kansas.
Johnson County Sheriff's Master Deputy Chris Farkes said K2 use among high school students "exploded" last fall. "It's very concerning because the students don't know what they're getting. They think it's harmless, but someone who uses K2, then drives a car or operates heavy machinery could put themselves and others in serious danger," he said. In November, a 14-year-old boy in Missouri reportedly was hospitalized for seizures after using K2.
The law officers said K2 started being used by former convicts on probation who were trying to avoid positive drug tests.
Copyright 2018 The Lawrence Journal-World. All rights reserved. This material may not be published, broadcast, rewritten or redistributed. We strive to uphold our values for every story published.