Last winter my wife and I combined our love of travel and nature to experience the Sandhill Crane migration along the Platte River in southcentral Nebraska. Over 500,000 cranes and other ducks and geese pass through the area each March and April, making it a wonderful destination for fowl photography.
Prior to the trip, a little Googling got me information on the migration. After finding the well-organized and informative online site for the Rowe Bird Sanctuary, near Kearney, I made viewing blind reservations. The blinds are basically long, unheated shacks adjacent to major crane roost sites. Observation windows along one side are plentiful, vary in height and easily accommodate cameras and spotting scopes. Two field trips are available each day to the blinds - at dusk and dawn. Time in the blind is about two hours. I booked an evening viewing, and my wife and I packed for the five-hour drive. Here's what I'd recommend:
• Warm, dark-colored clothes and blankets. The more layers the better. The inside temperature of the blind is the same as outside. My advice is to add some chemical-reaction hand and foot warmers.
• Tripod. The cranes come back to the river at dusk, and the light drops off fast. The tripod will enable long exposures. Flashes are not allowed.
• Small penlight with red bulb. They don't allow flashlights, but a small red-bulb light is acceptable to check your camera settings and find your spouse in the dark.
• Telephoto lens. I would recommend a minimum of a 300mm telephoto lens. You aren't that far away from the cranes, but for close-up photos you need long glass.
• Video camera. Might be preferable to a camera since you'll capture both video and audio. The sound of 10,000 cranes is amazing.
• Thermos of something hot to drink.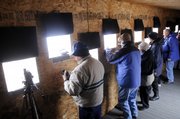 For the truly serious photographer, the Rowe Sanctuary can rent special photo blinds for two for overnight. Cost is about the price of a K.C. Plaza hotel room. But don't expect mints on your pillow. You get a 6-by-8-by-4-foot box with a dirt floor and your own Porta-Potty. You're delivered to your box at 5 p.m. and shut in until 9 a.m. You can't leave the box. You can't have any type of gas or open flame heater. But you will experience a closer encounter with the cranes. These blinds are located to optimize light based on input from professional wildlife photographers. For both viewing experiences, reservations can be made now for the 2010 season, which runs from March 6 to April 10.
My wife and I figured the photo blind experience would be the highlight of the trip, but we also enjoyed viewing and photographing wildlife during the day. Throughout the season, cranes can be seen and photographed, feeding on grain in cornfields near the river and flying overhead. Huge crowds of snow geese and other water fowl gather on nearby lakes and ponds, too. I highly recommend it as an area road trip for nature photographers and bird enthusiasts.
Copyright 2018 The Lawrence Journal-World. All rights reserved. This material may not be published, broadcast, rewritten or redistributed. We strive to uphold our values for every story published.