On the street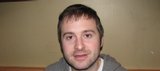 Campanile Hill on one of those trays.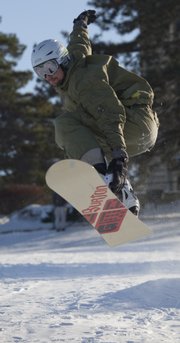 Mount Oread ski resort? That's what it looked like briefly Saturday afternoon as five snowboarders were perched just skier's left of the Campanile, buckling in their bindings and about to take off down the hill.
"We just wanted to make some turns," said 31-year-old Jesse Lee who had just caught a little air as he went over a pile of snow.
Johnny Kim, 39-year-old assistant professor in the Kansas University School of Social Welfare, was the first to make fresh tracks down the hill Saturday afternoon. He did more than a half dozen laps gliding down the hill and then walking up the sidewalk.
Having to dig his board out of the basement, Kim said he hadn't been snowboarding in seven years. But he wanted to get a few runs in before meeting up with college friends in Colorado later this winter.
While the ride was short and the hike back to the top was long, the snow was nice, said 28-year-old Jesse Sevier.
"It's crazy for Kansas," he said.
The snowboarders weren't the only ones taking advantage Saturday of the abundance of snow on Mount Oread.
Right below the Campanile was Chaz Steele, who used a wake board that was missing a fin to slide down the hill. And according to the 22-year-old, it was the fastest thing on the hill.
"It's very, very exhilarating. You almost feel like a flying squirrel," he said.
Behind Steele was a group of young men who claimed to be "professional sledders" and members of the self-proclaimed "Sled Team USA". They called their style guerrilla sledding, which pretty much meant they have yet to purchase a traditional sled and used just about anything to slid down the hill — including a sign with the words "Bus Traffic Only."
When it snows, the group sleds several times a week, sometimes at midnight. The other day they took their training on the road, sledding out at Clinton Lake. In their free time, they go to class at KU.
"But we are thinking about sledding," Andrew Inman said.
So what makes them professionals?
"Our intense dedication to the sport," Inman said.
"And who's to say we are not pros?" his friend Patrick Moore added.
Copyright 2018 The Lawrence Journal-World. All rights reserved. This material may not be published, broadcast, rewritten or redistributed. We strive to uphold our values for every story published.