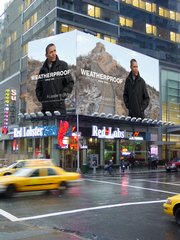 New York — Alison and Claire Egan gazed up at Barack Obama's rugged, windswept image in Manhattan's Times Square on Friday, snapping pictures of the giant billboard atop the Red Lobster restaurant.
The president looked pretty good in his casual cold-weather jacket, pronounced the tourists from Australia. But what, they wondered, was the leader of the free world doing modeling for an apparel ad?
"I don't think it helps his credibility as a politician," said Claire.
Of course, Obama wasn't moonlighting as a model. The Weatherproof outerwear company had purchased an Associated Press photo of the president at the Great Wall of China, in which, to their great fortune, he was wearing their jacket. Without his permission, they built an ad campaign around it.
On Friday, after being contacted by the White House, the company pledged to take down the billboard — in about two weeks, plenty of time to squeeze more attention out of it.
"We need time to create a new ad campaign," explained Freddie Stollmack, president of Weatherproof. "We can't have an empty billboard." In the meantime, he said, the ad campaign had been "absolutely" the right thing to do.
Legal experts say the incident shows that even though we all have the right to protect our image from unauthorized commercial use, for the president, it's trickier than most to pursue that right. And probably counterproductive more often than not, given the attention it draws.
"The president probably has the narrowest ability of any of us to protect his image, because he's the most public person," says trademark lawyer and intellectual property expert Anthony Biller. "And even if legally he has a right to stop the purely commercial use of his image, does he create more harm by going after these people?"
The Weatherproof incident came just as the animal-rights group People for the Ethical Treatment of Animals debuted a new anti-fur campaign featuring Michelle Obama and other celebrities, with ads in Washington's Metro stations, magazines and on PETA's Web site. PETA says it didn't ask for Mrs. Obama's consent because it knows she can't give it.
The Weatherproof ad, with its "A Leader in Style" tag line, is particularly brazen — it does make the president look something like a jacket model. "I don't think I've seen one that's quite so bold," said Biller, based in Cary, N.C.
But understandable, says advertising analyst Marian Salzman.
"Look, the Obamas are more fashionable than anyone who's been in the White House in years," says Salzman, president of Euro RSCG Worldwide public relations. "Right now they're the style setters. Look what he's done for the BlackBerry!"
Salzman says she can't recall ads like this featuring previous presidents. "But I don't recall another president that had sex appeal, either, so we're comparing apples and oranges," she said.
The Obama image has been used in countless ways since his inauguration: from ice cream flavors to bobble heads, from paper dolls to the Chia Obama. Technically, the president could sue based on laws in many states, including New York where Weatherproof is based, that protect individuals against the unauthorized commercial use of their image.
There's also federal legislation protecting the public against being misled by implied endorsement. The White House said earlier this week it was asking Weatherproof to remove the billboard because it implied Obama's endorsement of the product. Stollmack said Friday he'd heard from Kendall Burman, an Obama lawyer.
The photo was taken by Charles Dharapak of The Associated Press and Weatherproof purchased the right to use it from AP Images, the newsgathering organization's commercial photo arm. The AP agreement with Weatherproof required the company to seek any necessary clearances, said Paul Colford, a spokesman for The AP.
Despite the attention it brings, the administration needs to stand firm in cases like these, says Biller, the trademark lawyer: "It would cheapen the office if companies all were to use the image of the president this way."
Some noted that Obama's sagging approval ratings might affect his impact as a pitchman, anyway.
"That company may want to reconsider its ad campaign, because according to his latest poll numbers, President Obama is anything but weatherproof,"' conservative pundit Sean Hannity wrote.
Salzman, the advertising analyst, counters that the numbers have nothing to do with the president's billboard appeal. "Sex appeal transcends ratings," she noted.
Copyright 2018 The Associated Press. All rights reserved. This material may not be published, broadcast, rewritten or redistributed. We strive to uphold our values for every story published.