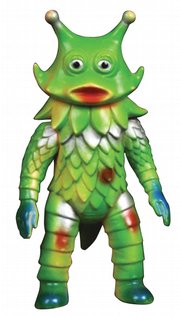 One of the newer collectibles to be found at auctions are Japanese monster toys made in the 1960s and 1970s. A recent auction by Morphy of Denver, Pa., was held on land and online to sell a huge of collection of toys, including about 50 of the Japanese kaiju ("strange beast") toys. These toys sell by the millions in Japan to boys, girls and adults. They are based on old monster movies and TV shows. Bullmark (1969-1977), a Japanese company, was the most famous manufacturer of these toys. The soft-vinyl toys were made in the early 1970s. The toys were made in sizes from 3 inches to more than 12 inches. Some were repainted to sell in Hawaii, and these brightly colored versions are rare and desirable. Later, in the 1970s, some monster toys came with metal parts, and still later some were die-cast. Watch some old "creature features" to learn about the monsters.
Q: My roll-top desk has a metal plaque on the inside that reads "Boston Derby Desk." I bought it from a retired Cleveland banker after World War II. What can you tell me about its manufacturer, age and value?
A: George H. Derby opened a small furniture company in Boston in 1872. By 1879 he was producing roll-top desks. A partner joined him the following year, and his business became Derby and Kilmer Desk Co., then Derby, Kilmer and Pond Desk Co. In the mid-1890s, the firm was incorporated as the Derby Desk Co. Its headquarters were in Boston, but it had a large factory in Somerville, Mass., just outside of Boston. The company expanded across the country until it was bought by another firm in 1931.
Q: While we were at the National Pike Festival in Maryland last May, my son found a blackened metal tray in a box of junk. Please help us identify it. It's 10 by 14 inches, with a twisted edge. We cleaned it and found it has a mirrorlike silvery surface. The marks on the bottom include "Farmers Bldg. Rest." and "GM Co., EP" surrounding an anchor within a shield.
A: Your tray is silver plate and was made by the Gorham Manufacturing Co. (GM Co.) of Providence, R.I. The "EP" mark indicates that the tray is electroplated. Gorham must have made it to order for a restaurant (Farmers Building Restaurant?). The anchor-in-shield mark was one of several that Gorham used on its silver-plated pieces. Gorham's corporate name was Gorham Manufacturing Co. from 1865 to 1961, when it became Gorham Corp.
Copyright 2018 The Lawrence Journal-World. All rights reserved. This material may not be published, broadcast, rewritten or redistributed. We strive to uphold our values for every story published.