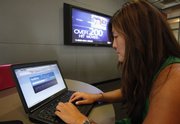 Philadelphia — Facebook. Twitter. MySpace. Cell phones. Blogs.
Time thieves, all of them. Or at least that's how they've sometimes been portrayed in news media, common lore and even the occasional scholarly study.
Not the real thing, not really human contact. Trivial, superficial connections that take up time we once spent with real friends, family, community. Americans are already isolated enough: We're the lonely crowd. We bowl alone. Social media just add to the Great American Isolation, right?
Not so, says a study from the Pew Internet and American Life Project. Titled "Social Isolation and New Technology" and published in the fall, it suggests that the reverse may be true: Social media make you more social, more involved, not less.
People who use social media have larger, more diverse "discussion networks" — groups of people with whom they share important issues — than those who don't. And social media users tend to be more involved in their communities.
Lead researcher Keith Hampton, associate professor at the Annenberg School for Communication at the University of Pennsylvania, says: "Social media users still tend to know just as many of their neighbors as nonusers, and they are more, rather than less, likely to be involved in voluntary community groups, and much more likely to frequent social settings such as cafes and public parks."
Making connections
In an online Deloitte survey in the fall, 57 percent said they used a social networking site, with 26 percent consulting it daily or almost daily. So it's a burning issue: Do our communications gadgets — the boxes we hold to our ears as we walk down the street, the screens we stare into, the Web sites on which we post messages, photos, audio, video — isolate us more or connect us better?
The latter, the Pew study says. Researchers questioned a random sample of 2,512 people in the summer of 2008 about whether they used social media, how much, and how it affected their personal and communal lives.
Just what do we mean by staying in touch? The Pew study let participants define it. Hampton describes the method: "'Give us a list of names,' we said, 'of people you consider to be especially significant in your life,' and social-media users had bigger lists."
Discussion networks were 12 percent larger among users of mobile phones and 9 percent larger for those who share photos online or use instant messaging. People's core networks — their closest and most significant confidants — tended to be 25 percent more diverse (contain both family and nonfamily) for mobile-phone users, 15 percent for basic-Internet users. Personal networks grew the more people used the Internet, instant messaging and other media.
Those who uploaded photos were 61 percent more likely to have discussion partners across political lines. Maintaining a blog was linked with a 95 percent higher likelihood of having a cross-race discussion partner.
Less civilized?
What do users themselves say? An unscientific survey for this story put the question out on MySpace, Facebook, Twitter and Tumblr.
Most commonly, Facebookers, Twitter tweeters and MySpace spatials say they feel connected to more people, more rewardingly, thanks to social media.
Don Lafferty of Philadelphia writes that "Facebook and MySpace before have dramatically expanded my real-life social circles. Bigtime."
But even among social-media folks, there are mixed feelings and skepticism. On Facebook, Philly-area foodie Lari Robling finds her social-media connections "less interesting" than her flesh-and-blood personal ties. She worries that "social media have caused us all to lose social graces that used to make our world so much more civilized," a fear echoed by several respondents.
Bowling alone
If social media help us be more social, can they help us with the great American malady, loneliness? For at least 50 years, Americans increasingly have been saying in surveys that they feel lonely or isolated. Robert Putnam's "Bowling Alone" (2000), which built on his prominent 1995 essay of the same title, brought that message to a mass audience. Loneliness, according to Putnam and others, may be endemic to the richest, busiest people on the face of the planet. So do social media worsen or improve this picture?
A much-discussed 2006 study in the American Sociological Review, which compared general social surveys from 1985 and 2004, found Americans more isolated. The authors speculated — though this wasn't the main point of the study — that new media might be making things worse.
The Pew study acknowledges the isolation, but suggests social media are not to blame. Hampton says, "I don't think anyone has a sound grasp on the true cause."
Copyright 2018 The Lawrence Journal-World. All rights reserved. This material may not be published, broadcast, rewritten or redistributed. We strive to uphold our values for every story published.