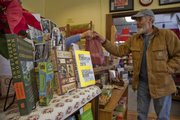 On the street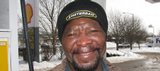 Get me a hot chocolate with a little 'taste' in it.
Old Man Winter, you're giving us the fever.
And not the kind worth singin' about either — though we surely have the time to hum a tune or 80.
After more than two weeks of arctic temperatures made no warmer by a thick blanket of snow, it's safe to say it: A plague of cabin fever has hit Lawrence like a truckload of Lincoln Logs.
If being inside the house has you climbing the walls, don't fear, you haven't exhausted all your in-house options just yet. Here's a list of ways to embrace your cabin fever — take it, shake it and see what you can make of it.
Get organized. So you've already picked up a holiday-weary guest room, straightened the junk drawer, even tackled the basement, why not spend some of your indoor time organizing a space that you actually use every day? Your closet. Seriously, what better use of your extra time than accounting for a situation when you have little time to spare — getting dressed on a hurried morning.
Emily Gatewood, a sales associate at Kieu's, 738 Mass., suggests organizing by color, then style and season. Put all the reds, blues, blacks, whites and grays together, and then go back to each individual color and order from lightest (tanks and T-shirts) to heaviest (cardigans and sweaters).
"If it's organized, then, when I'm hanging up my clothes, I'm like, 'Oh, the blue tank top goes with the blue tank tops,'" Gatewood says. "It'll make it easier to stay organized."
As for shoes — separate and store shoes by class like heels, flats and boots.
And how to keep it organized once you've done the work? Gatewood suggests hanging things up right away after laundry. Don't dread it. Your newly organized closet will make putting things away faster, just like getting dressed.
Go classical. Or at least hit the classics. Heidi Raak, co-owner of The Raven Book Store, 6 E. Seventh St., says she's having all sorts of folks come in and look for books they've wanted to read but never did, literary tomes by the greats like Tolstoy, Dickens, Bronte, Milton, Dostoevsky, etc.
"A lot of them are kind of looking for classics to read, things that they haven't had the time to get around to, some of the longer books they haven't had time to read — like 'Anna Karenina,'" she says.
Raak also says she's had a lot of interest in mystery series — just the sort of entertainment that can keep one busy until the thermometer crawls above freezing again.
"They're kind of looking to start something and stay in that world for another couple weeks," she says.
Also, try trading books with friends and family who are equally stricken by the cabin fever bug. If your sister liked a book, chances are you might like it, too.
Visit a tropical climate. OK, tickets to Bermuda probably aren't magically going to appear in your pasty little hands. However, you can visit a nice warm place vicariously from the comfort of your couch.
"I always try to watch movies that take place in hot climates during the winter. It doesn't always work, but it's better than watching 'The Thing,'" says Douglas Redding, video store manager at Liberty Hall, 644 Mass., of the 1982 horror/sci-fi classic starring Kurt Russell set in the arctic tundra. "It's a very cold, isolating movie."
Redding suggests trying out movies from Down Under — films like "The Road Warrior," "The Castle" or "Muriel's Wedding."
And if for some reason not being able to actually feel the cinematic sunshine depresses you even more, try ripping through the first season of a television series on DVD. Or check out Wholphin (www.wholphindvd.com) — a quarterly collection of fun short films that you probably missed, but should definitely see.
Hunker down in the kitchen. Warm up the oven and try out new recipes — or try to do stuff you never have time to do from scratch, says Paige Vandegrift, a Kansas City-based private chef who teaches cooking classes at the Community Mercantile, 901 S. Iowa.
"(Try) things we really don't do because we're so busy, so, baking bread or making braises and stews," Vandegrift says. "The things that take a long time but don't take a lot of attention."
Web sites like www.cooks.com, www.allrecipes.com and www.epicurious.com have tons of recipes that can provide hours of entertainment for anyone stuck inside — provided it's possible to brave the elements for a trip to the store for ingredients.
Also, it may be a good time to plan out what you'll eat when it's nice and warm. Vandegrift suggests going through a seed catalog and figuring out the schematics for a home garden.
"What a better excuse to sit down when it's freezing cold outside and go through the garden catalogs and pick out the plants and the seeds and things you want grow in the spring?" says Vandegrift, who points out that seed catalogs for spring have just hit shelves. "It's a great time to get it all on paper and plan."
No reason not to get crafty. If you do happen to venture out on the town, go ahead and get some art supplies. January happens to be National Hobby Month (Coincidence? Probably not).
Roger Miller, owner of George's Hobby House, 1411 W. 23rd St., says that you don't need any special skills if you want to try a new craft or to build a model car.
If they have a good set of instructions, Miller says newbies will be OK: "Paint, glue, time and patience. That's the four ingredients to building it."
Copyright 2018 The Lawrence Journal-World. All rights reserved. This material may not be published, broadcast, rewritten or redistributed. We strive to uphold our values for every story published.