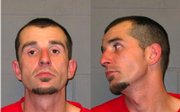 Lawrence police have identified a 30-year-old Lawrence man as the suspect in a robbery on Tuesday of Orchards Drug, 1410 Kasold Drive.
According to a news release, a warrant is out for the arrest of Trampas W. Hutchinson, identified as a transient, who is known to stay overnight in apartment building laundry rooms. The charges listed are robbery, possession of Fentanyl and felony theft.
Hutchinson is 6 feet tall and weighs 165 pounds. He has brown hair and brown eyes. Police said a white female may be accompanying him.
On Tuesday morning, witnesses and officers said the suspect ran behind the counter at Orchards Drug and took several packages of Fentanyl patches, valued at $750. The drug is a narcotic pain reliever.
The suspect ran from the business into a neighborhood east of the shopping center. He eventually flagged down a passing motorist and later took control of the man's pickup truck when the driver got out as police approached.
The suspect then started driving and briefly dragged the vehicle owner, who was not seriously injured. Minutes later, the vehicle was involved in a minor accident and Iowa Street and Bob Billings Parkway.
Police found the vehicle abandoned on the Kansas University campus. Officers say the investigation led them to suspect Hutchinson.
Anyone with information about the suspect or related to the case can call Lawrence police at 832-7501 or Crime Stoppers, 843-TIPS.
Copyright 2018 The Lawrence Journal-World. All rights reserved. This material may not be published, broadcast, rewritten or redistributed. We strive to uphold our values for every story published.