Matt Elwell's weather outlook
• The Good: Warmer temperatures are finally on the way
• The Bad: Temperatures in the 20s will not arrive until Sunday
• The Ugly: Weekend wind chill readings nearing 30 below zero.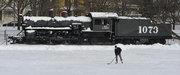 Photo Gallery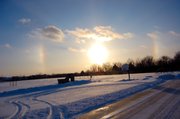 Winter Weather 2009-10
Winter Weather
Winter weather information
Single-digit temperatures and a negative wind chill.
Forecasters say Lawrence residents can expect more of the same brutal chill Saturday.
But hold on, Sunday's forecast is a high in the 20s.
Isn't it sad that sounds good?
On Friday, Lawrence residents did their best to carry on with life, even as the thermometer barely crept above zero.
Some folks didn't have a choice because working in the cold is just part of their job description. Here's a look at how they coped with the conditions:
•••
Stan Larson knows he has to overdress — an extra coat, any more layers he can pull on.
The wind and cold air can be cruel when he goes out daily to tend to his cattle west of Lawrence.
"We try to dress heavily. It's better to go out and have to loosen a coat up and take it off than to get out there and wonder where the other coat is," he said.
Larson, his daughter-in-law, Gina Schumann, and her son, Wyatt Schumann, have done their best at feeding and checking on their Hereford cattle this week.
The snow drifts have created problems, and they've had trouble getting some of their tractors to start because it has been so cold.
The cattle seem to be doing OK because the snow has been light and fluffy, and their coats have stayed relatively dry. Still, Larson and his partners will be glad to see a tough week come to a close.
"We expect a couple of days and nights when temperatures get the coldest every year," he said, "but this has really been hanging on."
•••
City workers on Friday had to brave single-digit temperatures and search snowy streets for valves to make water line repairs.
Jeanette Klamm, the city's utilities programs manager, said cold temperatures can cause the ground to shift and cause water line breaks.
About 5:30 a.m. Friday, crews discovered at least one leak, possibly two, along a water line near Sunnyside Avenue and Indiana Street. Klamm said during the process of trying to fix the problem crews accidentally shut off water to Kansas University's campus, but that was restored around noon.
City crews expected to have the leak or leaks fixed by Friday evening, she said. Friday afternoon, crews responded to a second waterline break on West 23rd Street between Kentucky and Tennessee streets.
The cold and snow make it difficult for utilities workers to do their jobs. The city does have a box truck at the site to keep workers warm.
"Otherwise it gets too cold and shuts things down," Klamm said.
•••
A furnace — as long as it's working properly — can be your best friend on a brutal day like Saturday.
But if something goes wrong, it can be a major headache. Especially with such a dangerous wind chill outside. Missouri Gas Energy had requested that customers from Liberty, Mo., north along Interstate 35 turn down their thermostats in the early morning hours this weekend because such a high demand could cause pressure problems with the system.
Curt Floerchinger, a Black Hills Energy spokesman, said the company had no plans to ask Lawrence area customers to do the same. They don't expect pressure or supply problems.
Black Hills is asking customers to check and make sure their gas meters are clear of snow and ice because if they are frozen it can cause heating problems in homes.
Floerchinger said residents can use a broom or their hands to clear snow away from their meter but they shouldn't use a shovel or snow blower at the risk of damaging the meter. The emergency number for Black Hills is 800-694-8989.
•••
The recent heavy snowfalls and several days of freezing temperatures have made it difficult on residential and commercial roofs.
Kirk Hinnergardt, the executive superintendent for Diamond Everley Roofing, said his company responded to several calls Thursday because ice formed on gutters and caused roof leaks that can compound problems.
The best thing homeowners can do is clear large piles of snow that form in valleys of their roof before it freezes, he said.
"It creates big ice dams, and it doesn't allow the water to get off of a roof," Hinnergardt said. "And that's where the problems start."
Copyright 2018 The Lawrence Journal-World. All rights reserved. This material may not be published, broadcast, rewritten or redistributed. We strive to uphold our values for every story published.