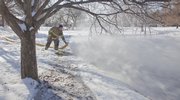 Winter Weather
Winter weather information
Kansas weather updates, via Twitter
9:47 p.m.
The snow is coming, but exactly how much is still yet to be seen. 6News Meteorologist Matt Elwell estimated the area could get as much as five inches of snow Wednesday, slightly more than originally projected.
5:48 p.m.
The City of Lawrence will begin round-the-clock operations at 4 a.m. Wednesday, the city announced Tuesday afternoon.
The city has spent the past 24 hours restocking supplies of salt and sand and is expecting another 1,000 tons of salt to be delivered on Wednesday.
The city will begin treating roads with salt and sand at 4 a.m., and then continuing treating until snow accumulation reaches 3 inches.
The city urges all residents to move cars off city streets and warns that as the storm progresses, some residential streets may become impassable. The city focuses first on arterial and collector streets before moving onto residential areas.
4:21 p.m.
The area is in for another wave of snowfall beginning Wednesday morning, but the wind and conditions that will follow on Thursday might be worse, said 6News Meteorologist Matt Elwell.
"People are going to hate Thursday more than Wednesday," said Elwell.
A Winter Storm Warning is in effect from 6 a.m. Wednesday until 6 p.m. Thursday for Douglas County and most of northeastern Kansas, with Elwell expecting 2 to 4 inches of snow in Lawrence. Elwell said snowfall will begin during the day on Wednesday and probably will wrap up by Wednesday evening.
But he said to expect strong winds, with gusts up to 40 mph on Thursday, which will cause wind-chill temperatures of 15 to 30 degrees below zero. Elwell said the wind could cause significant snow drifts, and he warned against "near whiteout conditions" on Thursday.
"It's going to turn bad really quickly," he said.
The extreme cold weather will continue Friday and Saturday, with lows below zero. There's a bit of good news on Sunday, when highs are predicted in the low 20s.
— Shaun Hittle
2:45 p.m.
The National Weather Service in Kansas City has expanded the Winter Storm Warning to include the Kansas City metro area, including Wyandotte, Leavenworth and Johnson counties.
2:31 p.m.
The National Weather Service in Topeka has issued a Winter Storm Warning for Douglas County — as well as Jefferson County — beginning at 6 a.m. Wednesday and running through 6 p.m. Thursday.
A winter storm watch is in effect for Leavenworth, Wyandotte and Johnson counties, while a winter weather advisory covers Shawnee and Franklin counties.
According to the National Weather Service, Lawrence and Douglas County are in an area that can expect 4 to 5 inches of snow with locally higher amounts. Winds of 20 to 25 mph, with gusts to 35 mph, will lead to blowing snow Wednesday night and all day Thursday.
Wind chills between -15 and -25 degrees are expected Thursday morning, with -20 to -30 degree wind chills on Friday morning.
Stay with LJWorld.com for the latest winter weather information.
Copyright 2018 The Lawrence Journal-World. All rights reserved. This material may not be published, broadcast, rewritten or redistributed. We strive to uphold our values for every story published.