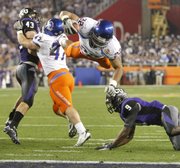 Glendale, Ariz. — Boise State reached into its bag of tricks again and stunned Texas Christian in a Fiesta Bowl duel of unbeaten BCS busters.
After the Broncos pulled off a gutsy fake punt at their own 33-yard line, Doug Martin scored the decisive touchdown to give No. 6 Boise State a 17-10 victory over third-ranked TCU on Monday night.
"I just know that these kids have the most unbelievable heart," Broncos coach Chris Petersen said.
A 10-10 stalemate came alive when punter Kyle Brotzman hit wide-open Kyle Efaw with a 30-yard strike with about nine minutes to play. Four plays later, Martin dove over a tackler from 2 yards out as the Broncos became the second school ever to go 14-0, joining Ohio State in 2002.
"The fake punt was a great call," TCU coach Gary Patterson said. "They outcoached us on that play."
The trickery evoked memories of Boise State's BCS debut three years ago, when it pulled out a passel of gadget plays to defeat Oklahoma on the same field.
Unlike that thriller, this game offered little drama until Petersen made another surprising call.
"For us to run a fake like that is gutsy," Brotzman said. "That's Boise State football. For him to call something like that and have faith in me to run and execute is awesome."
The Broncos caught the Horned Frogs napping on the fake punt. Kellen Moore then completed three straight passes to advance to the 2, and Martin scored to put Boise State up 17-10 with 7:21 to go.
"We knew it was going to be a hard-fought game," Petersen said. "A play here, a play there can turn the tide. Our hat's off to TCU. This game could have gone either way. We were fortunate to pull it out."
TCU took over at its own 1 with 1:06 remaining and marched to the Boise State 30 before cornerback Brandyn Thompson disrupted a pass by Andy Dalton, and Winston Venable picked it off to end the threat.
Moore passed for 211 yards. Dalton finished with 272 yards and a score through the air, but was intercepted three times.
Copyright 2018 The Associated Press. All rights reserved. This material may not be published, broadcast, rewritten or redistributed. We strive to uphold our values for every story published.