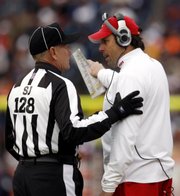 Kansas City, Mo. — It was unseasonably warm the night of Oct. 25 when Larry Johnson pulled up his Twitter account and unwittingly did the Kansas City Chiefs a world of good.
The Chiefs had been clobbered, 37-7, by San Diego earlier that day, dropping to 1-6. Johnson had carried the ball 16 times for 49 yards — typical of what the running back had done all year for a puny, struggling offense that still didn't have a rushing touchdown.
Posting that night on Twitter, Johnson poured out his frustration by insulting head coach Todd Haley, making gay slurs and bragging about how much money he was making. If it was a clever trick to get out of Kansas City, it worked. Johnson was given his outright release.
Off the bench came second-year running back Jamaal Charles, who two weeks later went for 103 yards in a victory over the Raiders. The week after that, he returned the opening kickoff 97 yards in a victory over the defending Super Bowl champion Steelers.
Suddenly, the offense that Haley had put at a severe disadvantage by firing the offensive coordinator right before the season had found an identity. That helped the offensive line mature. And that helped quarterback Matt Cassel because he wasn't getting battered quite as often by enemy pass-rushers.
Capping his transition, Charles galloped for 259 yards in Sunday's 44-24 victory over Denver in the season finale and broke the team's single-game rushing record of none other than that same Larry Johnson, who is now a backup in Cincinnati.
If Johnson had not tweeted himself out of town, would Haley have stuck with him? Or would he finally have given his little-used, little-known backup the ball?
Haley won't say. But the big win in Denver, made possible by the emergence of the soft-spoken running back with sprinter's speed, has sent the Chiefs into the offseason in an upbeat, positive mood not generally found on 4-12 teams.
Charles wound up with 1,120 yards, not bad for somebody who played roughly half a season. He has given Haley something to build around in the second season of a franchise overhaul. The team's euphoria over beating the Broncos must be tempered by the fact that it's won only six of its last 41 games.
"What we were trying to do offensively was not to the strength of Larry," said guard Brian Waters. "We were trying to be more open space, no huddle. Larry is more of a pounder."
On the field, the Chiefs made upgrades at running back and quarterback. Cassel, with little to work with much of the year, is obviously better than Tyler Thigpen, who started most of last year's 2-14 campaign. But if the Chiefs are to make more headway, they need young talent.
Their needs are particularly striking at safety, linebacker and offensive tackle. Left tackle Brandon Albert, after a standout rookie season, regressed this season and may be moved to guard.
Wide receiver is also a need. Chris Chambers, who came over from San Diego around midseason, looks like he can contribute but there are questions about Dwayne Bowe's role.
And what will happen with linebacker Derrick Johnson? The former starter got in Haley's doghouse in training camp and rarely got off the bench. Yet, every time he went into a game he seemed to make a big play. On Sunday, he tied an NFL record by returning two interceptions for touchdowns.
Fans should be encouraged by Johnson's words.
"I'm planning on being back here. I play for the Kansas City Chiefs," he said. "I love being a Chief."
Copyright 2018 The Associated Press. All rights reserved. This material may not be published, broadcast, rewritten or redistributed. We strive to uphold our values for every story published.