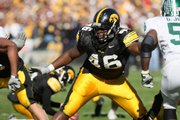 A couple of seasons ago, football fans in Lawrence had plenty of reason to tune into the 2008 Orange Bowl, where Kansas University was making its first appearance in a BCS bowl game.
The Jayhawks, who defeated Virginia Tech, 24-21, in January of '08, may have been left out of the bowl picture this season, but there's still plenty of reason for people in Lawrence to watch tonight's Orange Bowl battle between the University of Iowa (10-2) and Georgia Tech (11-2).
That reason is Christian Ballard.
Ballard, a 2007 Free State High graduate, is one of the best all-around athletes that FSHS has produced. In addition to being a highly-touted tight end and lineman on the gridiron for three seasons, Ballard helped lead the Free State boys basketball team to third place at state as a senior.
A few months later, even at 6-foot-4, 270 pounds, Ballard also ran a leg on the Firebirds' record-setting 4x100-meter relay team in track and field.
That's right, the 4x100, as in the sprinter's relay.
In high school, Ballard's 40-yard dash time was 4.6 seconds. It's safe to say that, along with bulking up, the Iowa junior also has pared down that 40-time, as well.

Through it all, Ballard's critics continued to dwell on his untapped potential.
"Everybody knew he had unbelievable athletic ability," Free State football coach Bob Lisher said. "Christian was just a sweet, nice young man. He didn't have a mean bone in his body. He just liked being around everybody and playing football."
Since high school, Ballard's demeanor has taken a turn for the athletic upside. He's still the pleasant young man he always was. He still possesses the boyish grin and the great-big, kind heart. But he's turned into a beast on the football field.
After initially committing to Kansas out of high school, Ballard changed his mind and wound up at Iowa. As a freshman, he rotated into the lineup as a reserve defensive end. Since then, he's found a home as a two-year starter at defensive tackle on a team that finished in the Top 10 in total defense during 2009. The Hawkeyes' D surrendered just 21 touchdowns in 12 games this season and held opposing offenses to an average of 287 yards per game.
"Iowa's always been known for its strong defenses," Lisher said. "And he's right in the middle of it. I think we all knew he had it in him and Iowa's turned him into a big-time football player."
Ballard finished the regular season third in sacks (5.5), tied for third in tackles-for-loss (9) and 10th in total tackles (51). In addition, he was third on the team in quarterback hurries with five.
"It all starts with what those four guys up front can do," said Hawkeyes defensive coordinator Norm Parker of what makes the Iowa defense work.
All of those numbers, along with what Iowa head coach Kirk Ferentz dubbed "excellent" leadership qualities heading into the season, helped earn Ballard a third team all-Big Ten nod on national pundit Phil Steele's postseason all-conference teams, as well as the "Hawkeye Hustle" award, which he shared with seven teammates.
Although Lisher has seen a handful of former players go on to bowl success after high school, Ballard's appearance in tonight's Orange Bowl will mark the first time in Lisher's coaching career that he's seen a former player reach such great heights.
And you can bet he'll be watching every second of it, with his eyes fixed on Iowa's No. 46 most of the time.
"I just feel a lot of pride," Lisher said. "One of our former players, one of our Free State guys, one of our Lawrence, Kansas, kids is playing in a big-time bowl game. It's just an added reason to watch the game, that's for sure."
Reached on his cell phone on the eve of the big game, Ballard was his usual friendly self but said all interview requests must be cleared through the Iowa sports information office. When contacted a second time, after offering to seek permission for the interview, the apologetic defensive lineman said the Hawkeyes were no longer granting interview requests prior to the Orange Bowl.
Kickoff for tonight's game in Miami — just the second BCS game in Iowa history — is set for 7 p.m.
Copyright 2018 The Lawrence Journal-World. All rights reserved. This material may not be published, broadcast, rewritten or redistributed. We strive to uphold our values for every story published.