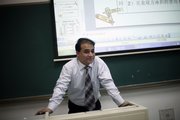 Beijing — Young men climb a railing at the back for a better view, while a woman in a Muslim head scarf snaps photos on her cell phone.
Every Friday afternoon, students pack a college classroom in Beijing to catch a glimpse of the sharply dressed professor punching the air as he speaks with surprising candor about the travails of his ethnic group, the Uighurs.
"We are not descendants of the dragon but of the wolf," Ilham Tohti shouts, drawing a clear line between the creation myths of the Han Chinese and the Uighur minority. "We were not created by the Chinese Communist Party. Our history stretches back much longer than 60 years."
The weekly lectures are a kind of high-wire act for the 40-year-old economist from Xinjiang, a predominantly Muslim region in China's far west. He has been put under house arrest dozens of times over the past decade for criticizing how China runs his homeland and treats his people.
The fearlessness so admired by his students, a Chinese ethnic mosaic of Hans, Uighurs, Kazakhs and others, is exactly what the government fears.
A bridge between groups
Yet Tohti is not a separatist or even a political dissident. He's a Communist Party member and a teacher at a top Chinese university who sees himself as a bridge between Hans and Uighurs. That the government has so far refused to endorse his middle road and work with him shows how difficult it is to resolve differences between the party and its restive Uighurs and Tibetans.
"Tohti stands out for his commitment to working within the established Chinese political order," said Rian Thum, a Uighur history researcher at Harvard University. "He is an outspoken and articulate critic of many discriminatory Chinese policies, but his writings do not challenge the ideological foundations of the People's Republic or the legitimacy of Chinese rule in Xinjiang."
China's Uighurs, about 10 million, make up less than 1 percent of China's population and inhabit a region rich in oil and gas deposits that abuts Central Asia. The collapse of the Soviet Union and the rise of militant Islam revived nationalism among some of the region's mainly Muslim Uighurs for a separate Xinjiang, or what they call East Turkistan.
An influx of Han Chinese settlers embitters Uighurs who say it is costing them jobs and threatens to swamp their culture. The resentment exploded in riots July 5 in Xinjiang's capital, Urumqi. Han-owned shops were vandalized and torched, and many Han were beaten and even burned to death.
The government has tried dozens of Uighurs and executed nine of them.
Tohti was kept in a Beijing hotel for three weeks of police questioning and released without charge. A Web site he founded in 2006, Uighur Online, had to shut down after authorities said it contributed to inciting the violence. He relaunched it on a U.S. server, but it remains blocked in China.
Tohti is an animated speaker, more preacher than teacher. A slideshow running behind him in a continuous loop flashes images of Urumqi in the days after the riots: burned-out cars, police and soldiers patrolling the city, weeping Uighur women begging Chinese security forces for information about their detained relatives, angry Hans marching in protest against the violence.
Addressing discrimination
He uses the classroom to build ethnic pride.
He reminds his many Uighur students that they have to speak two radically different languages — Mandarin and the Turkic-based Uighur tongue— and yet are mocked for their accents.
He asks why stewardesses on flights to Xinjiang speak English but not Uighur, and why staff on trains into the region only speak Chinese.
In China, these are topics not usually talked about in public. Hearing them in class is exhilarating for young Uighurs who say discrimination is a daily fact of life.
"He represents us," a Uighur undergraduate says of Tohti. "It would be hard for us to speak out the way he does, to talk about how the Han Chinese should not be so prejudiced against Uighurs, how they should respect us." He asked not to be identified by name lest it damage his job prospects.
Copyright 2018 The Associated Press. All rights reserved. This material may not be published, broadcast, rewritten or redistributed. We strive to uphold our values for every story published.