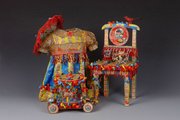 Lynda Andrus utilizes vintage fabrics and thrift store finds to create her unique artwork. She explains, "The materials express subtle tactile qualities of past experiences and make everyday objects take on a sense of the sacred. Nostalgic sentiments emanate from textures of worn cloth, discarded candy wrappers, dishes, toys and other found objects from the home.
These materials become precious links with those who have handled them." An opening reception for Andrus' solo exhibition, "Unwrapping the Past," begins at 7 p.m. Friday at the Lawrence Arts Center, 940 N.H.
Pixar masterpiece screens at library
Thursday: It's hard to think of a more delightful, heartfelt movie this year than the popular (and slightly bizarre) "Up." Pixar Animation Studios' latest effort — featuring the leading voice of Kansas City native Ed Asner — will be available to enjoy in a free environment at 4 p.m. at the Lawrence Public Library, 707 Vt. Next up: the Oscars.
Fleetwood Mac tribute at Tap Room
Friday: If you're gonna play in a Fleetwood Mac tribute band, you're gonna have some work to do. From the impeccable coed harmonies to the nimble fingerstyle guitar evocations of Lindsey Buckingham, the group's music is at once intricate and fluid. There won't be any marching bands marching into The Eighth Street Tap Room, 801 N.H., but there will be plenty of hits played by a very capable ensemble including members of Ghosty and Lights and Siren. Everywhere: A Tribute to Fleetwood Mac begins at 10 p.m.
Model U.N. benefit at Jackpot
Saturday: If "The Simpsons" has taught us anything, it's that the model United Nations is an important part of our school system culture. Thus, a group of bands (or a band of groups) is gathering for an event dubbed the Lawrence High School Model U.N. Benefit. The Eudoras, Bandit Teeth, Harrisonics and The Shebangs will perform at 7 p.m. at The Jackpot Music Hall, 943 Mass., with proceeds going to benefit the cause.
Copyright 2018 The Lawrence Journal-World. All rights reserved. This material may not be published, broadcast, rewritten or redistributed. We strive to uphold our values for every story published.