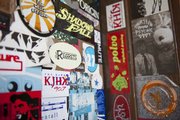 This spring, the student-run radio station at Kansas University will find a new home in the Kansas Union.
Logan Nickels, the KJHK station manager and a senior from Stillwater, Okla., said construction is under way on the third floor of the union near the FedEx Kinko's office and a hair salon.
"It's going to be interesting," Nickels said. "We're moving out of a place that has a lot of history."
The place KJHK leaves — a building officially called the Sudler Annex, but affectionately termed "The Shack" at 1132 W. 11th St. — has served as the home of the station since the early 1980s, and has accumulated a number of posters and other memorabilia commemorating KJHK history.
The move is scheduled for the spring, probably in late March or early April.
Tom Johnson, KJHK's general manager, said the station has been looking to move for years ever since being given the option to either bring the 11th Street building up to code or find a new home.
Johnson said the move comes at a cost of about $450,000, half of which is funded by the station, with the other half coming from a 10-year loan from KU.
The new area will be much more technologically advanced. It will feature a "floating" studio isolated from the vibrations of nearby walls.
"We're building a box within a box, essentially," Johnson said.
Nickels said he, and others who work at the station, will appreciate the new studio, music library and office spaces after working for years in a dilapidated area.
"It'll be great to be in the heart of campus with absolutely state-of-the-art equipment," Nickels said.
But still, he'll miss the nostalgia of the old Shack.
"I think the best word to describe it is bittersweet," Nickels said.
"There's really no other word for it."
Copyright 2018 The Lawrence Journal-World. All rights reserved. This material may not be published, broadcast, rewritten or redistributed. We strive to uphold our values for every story published.