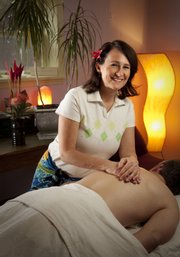 Annie Greskiewicz Stevens' heart and spirit danced and soared during her 10th summer. She visited Disneyland twice and spent idyllic days on California's beaches with her mom.
"It was a really magical time," she recalls.
Things changed drastically within months of returning to their Scranton, Pa., home. Her 32-year-old mother died of stomach cancer.
"My brother had been killed in a car accident 18 months earlier, so it made my mom's death that much more impactful," she says.
"The adults wouldn't talk about her dying and death. I was deeply grieved and confused and felt like a sailboat without a rudder."
Stevens majored in dance at Penn State.
"At my first dance class I felt I'd found an outlet for self-expression that felt true to my spirit," she says.
"I learned about the therapeutic benefits of dance and wanted to get a master's degree in the creative art therapies. When I didn't find a graduate program I liked, I changed my focus to business. That was good for my bank account but not my spirit."
After graduating with a bachelor's degree in 1981, she moved to New York and worked in the advertising business. In spite of outward professional success, she struggled inwardly, moved to California in 1985 and worked in publishing animation art and children's books at Disney's Burbank studios for 10 years.
"I guess I was searching for the joy I'd experienced that last summer with my mom," she says simply.
"I wanted to feel fully alive again."
She met musician Paul Stevens when he worked on Disney soundtracks. They married in 1990 and have two children. She started using Bach flower remedies, a system of self-healing using flower tinctures, developed by British physician Edward Bach.
"I read everything I could get my hands on about how the flower essences could help with depression and grief," she explains.
"I still use them today and find they help balance and lift my spirits and calm my emotions."
She moved to Lawrence in 1998 when Paul became professor of horn at Kansas University, and Stevens found more time to devote to prayer, meditation and explore other healing modalities like Rolfing, acupuncture and craniosacral therapy.
"Lawrence was the perfect place for me to find the time and resources for my inner healing," she says.
In 2003 Stevens experienced Lomi Lomi massage.
"It's based on the ancient Polynesian tradition of holistic healing," she says.
"It was the most profound healing experience I'd ever had. I connected deeply with my spirit again, faced and worked through my grief, and healed my heart."
She's now a nationally certified massage therapist, a level 4 Lomi Lomi practitioner, and dances with a hula troop that performs at a variety of area venues, including nursing homes.
"It gives me such joy to see the older residents get out of their chairs to dance with us and see the light come back into their eyes," she says.
"Lomi Lomi and hula have helped my heart and spirit to heal and dance again. It's a privilege for me to share these with others."
Copyright 2018 The Lawrence Journal-World. All rights reserved. This material may not be published, broadcast, rewritten or redistributed. We strive to uphold our values for every story published.