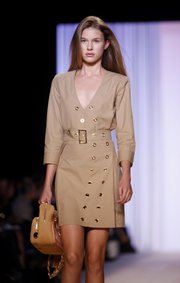 New Year's is the perfect opportunity to establish your own fresh look with long-lasting clothing. Revamp your style and rethink your wardrobe. This year, utilitarian dress is fashion-forward. Practical pieces are re-examined, transformed into functional-chic.
Khaki:
Look out for khaki-colored shirts and pants, jackets, button-downs and shirtdresses. Think beyond the standard uniform combinations and affiliations to discover the broad possibilities of dress that khaki clothing offers. Exploit this natural, neutral hue — the perfect starting point for layering: button-up cardigans, bold or bland tights, bangles and chunky beads, bright scarves and tortoise shades. Try fun belts, long sweaters, undershirts, overcoats and oversized earrings. Versatile khaki is the perfect workday, indoor/outdoor, vacation and weekend wear.
Military style:
Olive-green and khaki is a classic color combination. During this winter and the spring-to-come, wear tomboy styles that emphasize functionality. Military jackets, army parkas and trench coats are the hippest no-frills option. Look for versions that maintain sleek, minimalist design — quality modern collections that feel like sophisticated heritage pieces. Real clothes to live in.
Sew stylish
"The Sewing Bible" by Ruth Singer (Potter Craft, $35) declares itself the "Modern Manual of Practical and Decorative Sewing Techniques." And at 300 pages packed with instructions, patterns and, most importantly, lots of photos to show you how to do everything, it certainly is a great place to start. If you're new, start at the beginning. If you're not new, but want to improve, flip through to the appropriate "masterclass" instructions, like the "Inset corner masterclass" (page 51) or, if you aspire to be advised by Tim Gunn, try the following "Couture hem masterclass" (page 54), and move on to the "Invisible zipper masterclass" (page 89). Note that the book primarily is dedicated to learning how to sew clothes. You get to "Quilting, applique and patchwork" on page 180, and it's a rather small section..
— McClatchy Newspapers
Denim:
Denim is everywhere in 2010 — on slouchy purses, vests, skirts, jackets and jeans. Lightweight chambrays and coarse, durable trousers are lifestyle items, two wardrobe staples accompanied by the promise of long-lasting wearability and style. Denim shoes and hats made from denim add casual texture to an outfit. Bangles, jewelry and wrapped headbands speak on behalf of denim's more feminine side; playful rompers and girly skirts are cute and strong.
Shoes:
Oxford flats and heels feel intelligent and classy. Loafers, complete with a tassel are modernized for a cutting-edge version of this time-honored shoe.
Short, triangular heels provide elegance, an easy way to step up your look without forfeiting comfort — it's comfort sans flats. Wooden shoes make a comeback in the shape of the wedge. In the realm of the utilitarian trend, sky-high stilettos in neutral colors appear as one of the most feminizing components.
Belts:
Warm shades of coffee and brown are meant for wraparound belts. Crisp whites and tans define shapes, and such soft colors will offset any harsh overtones that your outfit might exude.
Copyright 2018 The Lawrence Journal-World. All rights reserved. This material may not be published, broadcast, rewritten or redistributed. We strive to uphold our values for every story published.