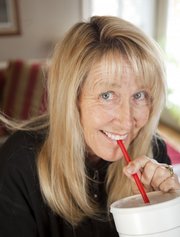 At their core, most new year's resolutions are about breaking bad habits and replacing them with better ones. Out with the old unhealthy behaviors; in with the new and improved.
Helping people turn over a new leaf is Lawrence therapist Linda Hoopes' stock-in-trade. She advises her clients to break big goals into smaller steps toward success.
"You pick out a big thing and break it down into realistic, attainable goals," Hoopes explains. "For instance, one of my own resolutions is to start saving more money. I'm going to pick an amount that's probably smaller than what I'd like to save each month just so I can start doing it, to get in the habit. It's a lot less scary and overwhelming."
Hoopes adds that many resolutions fall by the wayside because resolution makers try to go it alone.
"People need support for some of the bigger goals, especially something like stopping smoking and weight loss. Finding family or friends or other groups where you can get encouragement and listen to other people tell you what worked or didn't work for them can help a lot."
According to Harris Interactive's Second Annual New Year's Resolution study, losing weight is the perennial favorite with 63 percent of all Americans putting it on the top of their lists.
Dr. Donald Hensrud is editor of the just-released "Mayo Clinic Diet" (Good Books, $24.95). He says the Mayo program asks people to change a lot of habits suddenly - in an intense 14-day period.
"In the first two weeks, we ask you to add 5 habits and break 5," Hensrud says. "All have evidence supporting them in terms of decreasing calorie intake, increasing calories burned or managing weight.
"For example, one of the 'add' habits is to eat breakfast. Another is to eat more vegetables and fruits. One of the 'break five' habits is no sugar, except what's found naturally in fruit. Another is no TV when eating, and you can only watch as much TV as the amount of time you've spent exercising."
That sounds like a tall order for most yo-yo dieters, but Hensrud says the approach has been successful in practice.
"We thought, 'Let's take all the things we can find that are effective and, instead of slow and steady changes, let's see if we can get people to change them all at once," he says. "It takes people out of their comfort zone and habits that they're used to. And they see that they are, in fact, capable of making a lot of changes which motivates them to sustain it over time."
Personal fitness trainer, Marty Tuley of Lawrence, says studies show people who join health clubs in January, typically start to drop off in attendance around the three-month mark.
"I think a 90-day window is probably applicable to a lot of scenarios in any kind of habit forming. If you can keep yourself diligent and consistent with a new (good) behavior and/or losing a bad one for 90-plus days, then you're invested and you increase your chances of making the new habit a permanent one."
The critical part, according to Tuley, is to focus less on the ultimate goal - like losing 10, 20 or 50 pounds - and more on establishing a day-in-day-out pattern of regular exercise and good nutrition.
"If you take little bitty steps, but little-bitty steps consistently, that's the key," he says.
Lawrence resident Barb Forbes took small steps to replace a bad habit with a new one that's, well, a lesser evil.
"I was drinking four to five 32-ounce regular Dr. Peppers a day," she confesses. "Sometimes, I'd drink it from the can but I preferred it from the fountain. I knew which places in town had the best fountain drinks. I still do."
After several years of consuming 2000 calories per day in Dr. Pepper alone, Forbes knew she had to cut back.
"I was trying to lose weight and exercising a lot. I was running marathons and I couldn't get the weight off. I knew I had to switch (to diet). So, I replaced it but I did it slowly. I'd do half-regular-half-diet for a while and then I slowly, slowly cut down."
These days, she consumes two 44-ounce Diet Dr. Peppers a day for a total of zero calories.
"I have one in the morning and one in the afternoon after work," she admits. "But, I'd go back in a minute if it didn't make me gain weight. It's beyond a habit. I'm an addict."
Copyright 2018 The Lawrence Journal-World. All rights reserved. This material may not be published, broadcast, rewritten or redistributed. We strive to uphold our values for every story published.