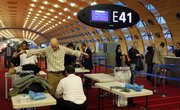 Chicago — With all the screening technology at U.S. airports, the last line of defense is still the human hand: the pat-down search.
But aviation experts say the pat-down is often ineffective, in part because of government rules covering where screeners can put their hands and how frequently they can frisk passengers. As a result, even if the man accused of trying to blow up a Detroit-bound U.S. jetliner on Christmas Day got an airport pat-down, it probably wouldn't have found the explosives authorities say were hidden in his crotch.
"To have people hold up their arms and just pat them — like I'm really going to carry a bomb there," said industry analyst Michael Boyd, arguing that pat-downs were often of little value. "You know where you're going to put it, and no one's going to go there."
Most travelers at U.S. airports never get a pat-down when they pass through security. A metal detector must be set off first and then screeners would need to find out what triggered the alarm. That often amounts to screeners just lightly tapping on a passenger's arms, legs and clothes.
But even if they go ahead with a pat-down, it likely would not turn up something nonmetallic, small and well-hidden.
Unlike the frisking of suspects conducted by police — which involves officers running their hands firmly up and down the body, including sensitive areas like the groin, buttocks and breasts — the pat-downs at airports usually involve, well, patting down.
A flood of complaints by women prompted the Transportation Security Administration in 2004 to list "dos" and "don'ts" on pat-downs, including barring screeners from touching female passengers between their breasts. The TSA hasn't publicly released that list.
But a report by the Government Accountability Office, which said federal investigators were able to smuggle liquid explosives and detonators past security at U.S. airports, appeared to prompt some changes last year in pat-down policies.
The TSA last year decided to permit what it describes as "enhanced pat-downs" that include breast and groin searches. But these could be done only under limited circumstances and only after the use of metal detectors, less invasive pat-downs and all other tools had been exhausted.
Still, even in those cases, screeners must use the back of their hands when touching the groin area and breasts, according to the TSA.
Since the Dec. 25 incident, some have been calling for more pat-downs at airports. But sensitivities on all sides mean any push for more frequent, thorough pat-downs would likely meet fierce resistance.
"People just wouldn't stand for it. You wouldn't. I wouldn't," said Gerry Berry, a Florida-based airport security expert.
Fearful of lawsuits or allegations of molestation, many screeners at airports would be the most resistant of all, Boyd said.
"You'll have people yelling, 'He grabbed me! He groped me!"' he said. "You don't want that job."
Copyright 2018 The Associated Press. All rights reserved. This material may not be published, broadcast, rewritten or redistributed. We strive to uphold our values for every story published.