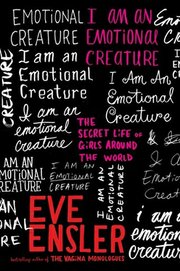 Anyone familiar with the work of activist-writer Eve Ensler knows she's all about girl power.
Ensler wrote "The Vagina Monologues," which over the years has featured well-known actresses reading monologues about sexuality. The tone of the play ranges from funny to awkward to heartbreaking, but its main purpose is to encourage female empowerment.
In her new book, "I Am an Emotional Creature: The Secret Life of Girls Around the World" (Villard, $20), Ensler tells readers: "We have become accustomed to muting you, judging you, discounting you, asking you, sometimes even forcing you, to betray what you see and know and feel ..."
She explains that she wrote the book because she wants girls to feel secure in their own identity. To achieve that, she provides insight into what it might be like to live as a young woman today.
Ensler writes fictional monologues as girls across the globe. One is a blog written from the perspective of an anorexic teen: "Beautiful is a country with gates around it. I'll never be invited." Another is an Iranian teen whose parents trick her into rhinoplasty. She was comfortable, even happy, with her distinctive nose, and is devastated by the change. Her father tells her post-surgery, "You will be a princess now."
Another vignette is from the point of view of a 13-year-old Chinese factory worker who makes dolls for a living. Unable to express herself, she infuses her thoughts into each doll's head. She believes that inside the doll is a woman wanting to be free, messy and real, and that the doll hates her uncomfortable high heels and is smarter than people realize.
"I Am an Emotional Creature" is thoughtful and provocative. Its unbiased acceptance of girls of all types is comforting and inspiring.
At the end of the book, Ensler encourages young girls to care and cry as much as they want and to ask, "Why am I adding a question mark to the ends of my sentences?" In other words: be yourself, love yourself. You are special as you are.
Parents often lament about the drama and stress of raising a daughter. If they read Ensler's book, it might open up a discussion of the realities of generation Y.
Copyright 2018 The Associated Press. All rights reserved. This material may not be published, broadcast, rewritten or redistributed. We strive to uphold our values for every story published.