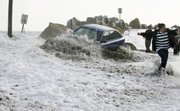 Albany, N.Y. — A slow-moving winter storm smacked the Northeast on Friday, unleashing heavy snow, rain and hurricane-force winds as it knocked out power to more than a million homes and businesses. It turned Maine beachfront streets into rivers and piled on the misery in places hit by three major blizzards in less than a month.
Every form of travel was miserable if not impossible. More than 1,000 flights were canceled, bus service across northern New Jersey was knocked out and roads from Ohio to West Virginia to Maine were closed. State troopers used snowmobiles to reach motorists stranded for hours on an eastern New York highway.
Power failures were so severe and widespread in New Hampshire — 340,000 of the state's roughly 800,000 customers — that even the state Emergency Operations Center was operating on a generator. Gov. John Lynch said it could take a week for all those lights to flicker back on.
It was wind and rain rather than snow that wreaked havoc in that famously frigid state and its neighbor Maine. Parts of southern Maine were hit with more than 8 inches of rain.
Areas to the south, meanwhile, got their third heavy dumping of snow this month. Monroe, N.Y., received 31 inches, and New York City got more than 20, setting a record for the snowiest month in its history.
Pete Wichrowski of the National Weather Service says 20.9 inches of snow fell from the storm in Central Park, pushing the city's total for February to 36.9 inches and easily beating the previous high of 30.5 inches, set in March 1896. The National Weather Service has been keeping records since 1869.
Much of the region, particularly Philadelphia and southern New Jersey, only recently finished cleaning up from a pair of storms a few weeks ago.
Friday's storm made February the snowiest month ever for New Brunswick, N.J.; it has gotten 37 inches so far. This had already been the snowiest winter for Philadelphia and Atlantic City, N.J., before the latest storm dropped another 4 to 5 inches.
Blowing, drifting snow blinded and stranded drivers in mountainous parts of West Virginia, shutting down countless roads, and National Guard troops were mobilized to help. It was bad enough that mail service was suspended in six counties.
"The drifts are 15 feet deep over the roads, and highways can't move fast enough to keep them open," said Marvin Hill, emergency manager for Randolph County.
Copyright 2018 The Associated Press. All rights reserved. This material may not be published, broadcast, rewritten or redistributed. We strive to uphold our values for every story published.