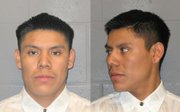 A Douglas County District Court judge ignored the recommendations of a plea agreement and instead handed down the maximum sentence Friday to a man convicted of raping a Kansas University graduate student outside of a Lawrence bar last August.
Alejandro Perez Cortez will serve nearly 14 years in prison for the attack on a 23-year-old woman as she was leaving Wilde's Chateau, 2412 Iowa.
The victim addressed her attacker directly, explaining how the incident devastated her life.
"Every day since you raped me I've been afraid," she told Cortez through an interpreter. "You made my worst fear in life a reality."
The victim said since that night, she has bought a German Shepherd and started carrying a knife. She said she's afraid to walk in large parking lots and her heart races every time she approaches her car.
She told Cortez that even though the attack lasted only 30 minutes, the effects will last her entire life.
"Because you raped me, the state of Kansas is sentencing you to prison," she said. "But because you raped me, I am serving a life sentence."
Judge Peggy Kittel praised the victim, who was able to collect evidence during the rape which eventually led to the conviction. During the attack she stole the suspect's wallet and attempted to obtain his DNA by scratching him and ripping off a necklace he was wearing.
"I've never seen a victim be able to keep their wits about them," Kittel said at the conclusion of the sentencing.
Cortez, who has no previous criminal record, did not comment. He broke down in tears as the victim read her statement.
Cortez pleaded guilty to the charge in December and as part of the plea agreement an aggravated kidnapping charge was dropped. Both the prosecutor and the defense attorney had agreed to recommend Cortez receive the standard sentence of 155 months.
Due to the nature of the crime, Kittel opted for the aggravated sentence of 165 months.

Cortez, who will be required to register as a sexual offender, faces the possibility of deportation after serving his sentence.
Copyright 2017 The Lawrence Journal-World. All rights reserved. This material may not be published, broadcast, rewritten or redistributed. We strive to uphold our values for every story published.