$5 Million School Budget Gap
As part of its $5.5 million savings plan, the group Save Our Neighborhood Schools proposes to:
• Stop using the general fund on student materials items, such as calculators, science and math kits and workbooks. Savings estimate: $1 million.
District: Revenue from student fees won't cover all materials expenses, and administrators don't recommend increasing fees.
• Charge $400,000 this year and next year in administrative overhead to the Lawrence Virtual School.
District: Recommends saving $223,970 to stop absorbing virtual school administrative costs. Additional charges are under review.
• Only retain learning coach positions that receive federal funding to save $420,000.
District: Current cut options for board members include reducing three full-time positions for learning coaches to save $160,905. Board president Scott Morgan has said he supports a cut to learning coaches.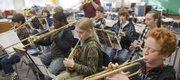 With a $4 million budget deficit growing to $5 million, the likelihood of school closings seems to be increasing.
Related document

School District Response to Community Budget Suggestions ( .PDF )
Amid the $5 million budget crisis, Lawrence school administrators say the district is considering some ideas from a group opposed to closing schools, but not all of them are workable.
The administration disagrees with increasing fees — that total $112 for elementary students and at least $162 for secondary students — to try to raise revenue for certain student materials such as calculators, science and math kits and workbooks.
"Fees in Lawrence are pretty high, and they're pretty comprehensive," Superintendent Rick Doll said.
But Alee Phillips, a member of Save Our Neighborhood Schools, said the district is relying too much on its general fund for student materials expenses and not tapping enough into fee-funded accounts that had balances going into the year.
The group has proposed the district can save $1 million if it stopped charging its materials to its general fund, but Doll said that savings estimate is too high and that fees won't cover all of those instructional material expenses because the district can't commingle its funds collected from fees for textbooks and student materials. "If your fees going in aren't covering your expenses, then your fees aren't right," Phillips said.
As of July 1, 2009, the district had an $888,190 balance for textbooks, most of which is being saved to adopt a new elementary math book. It also had a $493,087 split among instructional materials and technology materials. Doll said the district still needs to tap into the general fund to cover material expenses each year. Otherwise it would provide fewer materials or look at cuts.
But Phillips said based on past budgets, the district should have enough money with adding revenue from this year's fees to cover student material expenses for this year and next year to free up savings in the general fund.
Even though administrators oppose it, the group has proposed a fee increase to raise $200,000 for student materials. Phillips said private fundraising could supplement fees for low-income students.
Copyright 2018 The Lawrence Journal-World. All rights reserved. This material may not be published, broadcast, rewritten or redistributed. We strive to uphold our values for every story published.