A 60-year-old Topeka man has died from the H1N1 flu virus.
The Kansas Department of Health and Environment said the death brought the total number of confirmed deaths from H1N1 statewide to 28.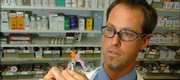 An outbreak of H1N1 Swine Flu was reported in Mexico in April 2009. By the end of May, it had spread across the U.S., with all 50 states reporting cases.
The man's infection was confirmed in the KDHE laboratory Feb. 4, and his death was reported to KDHE on Feb. 22. The man had underlying health conditions that placed him at greater risk for severe complications of influenza.
"Even though the 2009 H1N1 flu virus has decreased in activity, it continues to circulate and still remains a threat. We typically see flu activity peak in February or March in Kansas, and we are continuing to monitor the situation closely. So, if you haven't received the H1N1 influenza vaccine, I encourage you to do so. "

— Dr. Jason Eberhart-Phillips, state health officer
The H1N1 vaccine is available for free at the Lawrence-Douglas County Health Department, 200 Maine St. For more information, call the department at 843-3060.
Copyright 2018 The Lawrence Journal-World. All rights reserved. This material may not be published, broadcast, rewritten or redistributed. We strive to uphold our values for every story published.