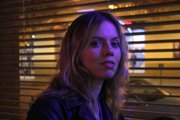 Renfro benefit
When: 8 p.m. Friday, March 19
Where: Jackpot Music Hall, 943 Mass.
What: Five bands and a silent auction. Donations can also be made at any Douglas County Bank to the Renfro Support Fund.
She's a chef, a mother of three, a devoted friend, and now Krystyn Renfro can add medical miracle to that list.
"She's doing remarkably well," said Renfro's longtime friend, Jericho Van de Velde.
"She's definitely a rare case. When she got to the hospital, they said they'd be surprised if she survived five days."
That was more than 20 days ago.
Now, as the 33-year-old hit-and-run accident victim lies in a Kansas City hospital bed — with a shattered pelvis and broken ribs, and suffering from a brain injury — friends and family are begging the driver who struck her to come forward.
'The right thing'
"What I would say to them is to man up," Van de Velde said. "They didn't do the right thing that night after they hit her. They need to do the right thing now."
"I just keep trying to picture what kind of person would be able to do something like that," Renfro's friend, Liz Taylor, said.
"The most difficult part was to try to think of who this person was, and why they would leave someone there in the street to basically die."
Renfro was struck by a car near 28th Street and Lawrence Avenue around 1:15 a.m. Jan. 31. Her father, Ralph Renfro, has said his daughter was hit after bending down to pick up her cell phone, which she had dropped on the street. The police report indicates Krystyn Renfro had consumed alcohol prior to the accident, although Van de Velde, who was talking to Krystyn on her cell phone just moments before the impact, said she made no mention of having consumed any alcohol and didn't sound as though she was under the influence.
Police said that although Krystyn had drunk some alcohol before the accident — test results aren't back yet that would pinpoint how much — they don't believe it contributed to the accident.
On the other hand, Van de Velde, who has been by Krystyn's side since the accident, is convinced the driver who hit her and fled the scene must have been drunk.
"There's no way that I'll believe that the person behind the wheel was sober," he said, "Someone getting behind the wheel of a car, hearing the thud, seeing something in the rearview mirror and just kept going — the phrase 'burn in hell' comes to mind."
Police are still seeking any information about the accident and continue to look for what they've described as a silver or light-colored 2004 to 2006 Mazda 3 with possible front end damage.
Lawrence police Sgt. Bill Cory said officers have already looked at a long list of cars matching the description of the suspected vehicle, although he did not have an exact number. Police also have a few leads they are still following.
Beginning to recover
Renfro's friends said Krystyn and her family deserve to see the driver brought to justice.
"I think it's important in the sense that it would give her family a sense of peace," Taylor said.
But more important to them is their friend's recovery. Van de Velde said that while Krystyn has been moved out of the intensive care unit and is "out of the woods," she still has a long recovery ahead.
Friends have organized a March 19 benefit for Krystyn at the Jackpot Music Hall in downtown Lawrence, which will include five bands and a silent auction. Money raised will help the Renfro family with expenses related to the accident.
"I think this is going to help her and her family in so many ways," Taylor said.
Krystyn's parents, who live in Chase, have spent the past three weeks by their daughter's bedside, helping care for her 4-month-old son. The money raised could help her parents stay nearby throughout their daughter's recovery.
Friends said the only other thing that would help right now is knowing who is responsible for Krystyn's injuries.
"We want to know who it is," Van de Velde said. "All of us deserve it. First and foremost Krystyn deserves it. She has a right to know."
Copyright 2018 The Lawrence Journal-World. All rights reserved. This material may not be published, broadcast, rewritten or redistributed. We strive to uphold our values for every story published.