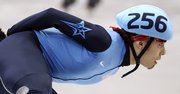 Vancouver, British Columbia — More medals — but no gold — for Shani Davis, Lindsey Vonn and Apolo Anton Ohno.
One couldn't "man up," one "backed off the gas pedal," and one had to "crank it up" to make history.
Ohno's bronze in the 1,000-meter short-track final broke a tie with Bonnie Blair as the most decorated U.S. Winter Olympian. Ohno has seven career medals, including a silver in the 1,500 from earlier in these games. His medals are the most of any short-track skater.
Lee Jung-su of South Korea won the gold medal, and teammate Lee Ho-suk earned the silver.
Ohno appeared relieved as he crossed the finish line, having skated near the back of the pack early in the nine-lap race. Ohno briefly moved up to second, then dropped to last with three laps to go, forcing his rally near the end.
"When I moved up into second place, in my head I thought that the race was mine, and I felt great," he said. "Then I slipped and lost all my speed again. I saw everybody flying by me, and I'm like, 'Oh boy, there's not a lot of time. I'm going to have to kind of crank it up.'"
Davis won silver in 1,500-meter speedskating for the second straight Olympics to go with the two consecutive golds he's earned in the 1,000.
His expected duel with fellow American Chad Hedrick — an unexpected bronze medalist in the 1,000 — never materialized. Hedrick faded on his last lap and was sixth in a race won by Mark Tuitert of the Netherlands.
"I just couldn't man up and do it," Davis said. "I wasn't strong enough for the victory."
Vonn settled for bronze in the super-G. Austria's Andrea Fischbacher pulled off the upset, and Tina Maze of Slovenia was the surprise silver medalist. Vonn won the downhill to open her Olympics, then wiped out in the slalom leg of the super-combined.
Tuitert, skating in the third pair from the end, posted a time of 1 minute, 45.57 seconds, then watched nervously as it stood up.
Davis, the world record holder at this distance, went last but had to settle for silver in 1:46.10. Havard Bokko of Norway took the bronze in 1:46.13.
Tuitert came in ranked only fifth on the World Cup circuit at this distance.
"It all came together in this race," he said.
In the 1,500 in Turin, Italy's Enrico Fabris ruined another Davis-Hedrick showdown by winning gold, leaving the Americans to settle for silver and bronze.
"It's the second time in a row that Shani and I have gotten this race stolen from us," Hedrick said. "We go in as heavy favorites each time, and it is some special skater every time that comes in."
Super-G
Vonn conceded she let up at the end — and it cost her.
While many of the favorites struggled with a sharp right turn midway down, Vonn made it through that section without a problem. She then lost nearly half a second on the bottom section.
"Once I got past those difficult sections, I kind of backed off the gas pedal," Vonn said. "I felt like I just didn't ski as aggressively as I could have, and I think that's where I lost the race."
The Austrians, who won 14 Alpine medals including four golds in Turin, had gotten off to a slow start. Elisabeth Goergl's bronze in the downhill had been their only medal. Fischbacher was reduced to tears after placing fourth in the downhill, finishing 0.03 seconds behind Goergl.
"At first I was really sad," Fischbacher said. "Then I was just saying, 'OK, maybe I make it in the super-G."'
Her coach, Juergen Kriechbaum, set the super-G course according to International Ski Federation rules that rotate the job to correspond with the higher-ranked super-G skiers. Fischbacher navigated her way down Franz's Run in 1 minute, 20.14 seconds. Maze was 0.49 behind, and Vonn was 0.74 back.
Vonn already had wrapped up the season-long World Cup super-G title by winning three of the five races so far; Fischbacher was third in the event standings.
On Saturday, she was denied a sweep of the speed events. Depending on how her bruised right shin holds up, the American still has two events remaining in Vancouver — giant slalom and slalom.
Short track
Zhou Yang of China easily won the gold medal and set an Olympic record in women's 1,500-meter short track speedskating.
Zhou breezed to the finish line in 2 minutes, 16.993 seconds, well ahead of Lee Eun-byul of South Korea, who earned the silver in 2:17.849. Park Seung-hi of South Korea took the bronze, finishing in 2:17.927.
American Katherine Reutter finished fourth.
Ski jumping
Switzerland's Simon Ammann won the large hill to become the first ski jumper with four individual Olympic titles. Ammann put down the best jump in both rounds. He used his disputed bindings again, beating four Austrians who weren't happy about his equipment.
Polish veteran Adam Malysz took silver, and 20-year-old Austrian Gregor Schlierenzauer earned bronze — the exact same finish as in the normal hill jump a week ago.
Cross-country skiing
Marcus Hellner of Sweden won the men's 30-kilometer pursuit, pulling away from three rivals after entering the ski stadium and building enough of a lead to sprint alone to the finish.
He was timed in 1 hour, 15 minutes, 11.4 seconds. Germany's Tobias Angerer finished 2.1 seconds behind.
Copyright 2018 The Associated Press. All rights reserved. This material may not be published, broadcast, rewritten or redistributed. We strive to uphold our values for every story published.