Winter Weather
Winter weather information
Kansas weather updates, via Twitter
Photo Gallery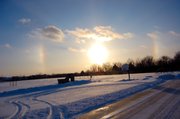 Winter Weather 2009-10
3:13 p.m.
The National Weather Service has replaced the winter storm warning with a winter weather advisory. The winter weather advisory is set to run through midnight.
The NWS bulletin projects light snowfall in north-central Kansas through Sunday evening, with additional accumulation of less than one inch.
3:03 p.m.
Although most city streets are passable, Lawrence Police officers have responded to at least three non-injury accidents and one slide-off this afternoon.
Westar Energy is currently reporting 154 Douglas County customers without power, with the main outage concentrated near the intersection of 24th and Iowa streets.
12:31 p.m.
The National Weather Service has adjusted the winter storm warning for Douglas and surrounding counties. Instead of terminating at 6:00 a.m. Monday, the warning is now set to expire at midnight. The service's latest bulletin indicates Sunday afternoon's heaviest snow will fall north of Douglas County.
Westar Energy is now reporting 32 of its Douglas County customers are without power.
10:37 a.m.
After receiving several hours' worth of sleet Sunday morning, Lawrence started picking up snow at about 9:00 a.m. Heavy snowfall lasted until about 10 a.m. when precipitation changed to light snowfall.
According to 6News meteorologist Greg Postel, the Lawrence area should receive 2 to 3 more inches of snowfall this afternoon, to bring the total accumulation to as much as 5 inches.
"We should see off-and-on bands of moderate snow here and there," Postel said. "It shouldn't be continuous and at that rate I'd doubt it will be (falling at) even an inch an hour."
Despite the icy conditions and reports of at least one cable line down, Westar Energy is reporting fewer than 10 Douglas County customers are without power.
5:34 a.m.
A steady cold rain is showering the area this morning.
Traffic incidents have toned down in the early-morning hours but the roads are still slick. The below-freezing temperatures should ensure some icy patches will plague some streets, so drive with caution. City crews have been working overnight to treat roadways and help prevent ice buildup.
The freezing rain is expected to continue into the afternoon Sunday, at which time the National Weather Service expects snow to prevail. As many as 4"-7" of snow accumulation are possible throughout the day Sunday, according to 6News meteorologist Matt Miller.
The winter storm warning remains in effect until 6 a.m. Monday.
2:55 a.m.
Despite varying estimates, the Lawrence area can still expect significant snow accumulation — 4-7 inches — today, said 6News Meteorologist Matt Miller. A winter storm warning also remains in effect until 6 a.m. Monday, according to the National Weather Service.
Miller said the snow accumulation will occur during the day today, tapering off by the evening. The ice from Saturday night and early this morning — up to an inch — should stick around, thanks to below-freezing temperatures throughout the morning.
Miller warned of potentially hazardous road conditions throughout today.
Temperatures are expected to remain in the 20s and 30s through Monday night, when they'll dip to the teens, before warming up to highs in the mid-30s on Tuesday.
— Shaun Hittle
Major roads in Douglas County are listed by the Kansas Department of Transportation as wet and slushy, with only Interstate 70 currently falling in the snowpacked/icy category. Emergency dispatchers continue to receive calls of vehicles sliding off roadways as freezing rain falls on the area. The temperatures are still hovering in the low 30s, helping most of the precipitation to melt on contact.
12:00 a.m.
A light wintry mix is currently falling on Lawrence, continuing to make driving conditions less than ideal. Travel is still discouraged unless necessary.
A layer of ice is expected to blanket the area and stick into Sunday morning thanks to above-freezing temperatures.
Saturday
9:58 p.m.
The snow continues to fall in Lawrence and the temperatures are dipping below freezing.
Roads in Douglas County are wet and slick in some spots, but emergency dispatchers said no roads in particular were more hazardous than others. There have been numerous reports in Douglas and surrounding counties of cars sliding off the roads, though most of the activity took place about 6 p.m.
The National Weather Service is currently predicting occasional periods of wintry mix or freezing rain, which will continue to make driving more difficult. The NWS advises staying off the roads if at all possible.
Winds are also expected to pick up into Sunday afternoon, making the possible 4 to 7 inches of snowfall more troublesome for travelers. Snow is expected to subside by Sunday evening.
8:30 p.m.
While the National Weather Service scaled back snowfall estimates for the area from 4 to 7 inches to 2 to 4 inches, 6News Meteorologist Matt Miller said recent computer models show the Lawrence area can still expect 4 to 7 inches of snow on Sunday.
Tonight, Miller said to expect ice and freezing drizzle. "I think it's going to be a bad night," he said.
The ice will stick thanks to above-freezing temperatures Sunday morning, followed by the heavy snowfall throughout the day, tapering off by Sunday evening.
4:10 p.m.
The most recent bulletin from National Weather Service calls for snow accumulation totals ranging from 2 to 4 inches in an area of northern Kansas that includes Lawrence. The most dangerous part of this weekend's storm could be ice, as ice accumulation is projected to fall in the range of 1/10th of an inch to 1 inch.
Precipitation should pick up intensity later tonight. The heaviest period of snowfall is projected to come Sunday afternoon.
The National Weather Service warns that travel could be very hazardous or impossible because of the significant ice accumulation.
11:30 a.m.
The National Weather Service has upgraded Douglas and surrounding counties to a winter storm warning running through 6 a.m. Monday.
The most recent forecast calls for widespread precipitation beginning tonight and continuing through Sunday afternoon before tapering off Sunday night. The most significant precipitation is expected to fall early Sunday morning through mid-afternoon Sunday.
Anywhere from 4 to 7 inches of snow accumulation is expected along with some sleet in the area south of Interstate 70. Blowing snow and snowpacked roads will create poor driving conditions from dawn Sunday morning through at least Sunday evening.
Copyright 2018 The Lawrence Journal-World. All rights reserved. This material may not be published, broadcast, rewritten or redistributed. We strive to uphold our values for every story published.