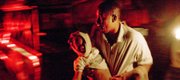 A 7.0 magnitude earthquake occurred 10 miles southwest of Port-au-Prince on Jan. 12, causing widespread devastation in Haiti's capital and throughout the country.
Photo Gallery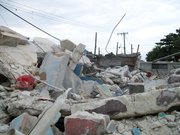 Lawrence resident survives Haiti earthquake
Rachelle Esperance recounts her story of survival during the Haiti earthquake.
-->
Lawrence resident Rachelle Esperance, 38, and her 2-year-old son, Olivier, were watching television in a second-floor apartment in Port-au-Prince, Haiti's capital, on Jan. 12 when a catastrophic earthquake hit.
Esperance, a nursing student at Kansas City Kansas Community College, had returned to her native country on Dec. 23 to get her student visa renewed. While there, she also visited family and friends.
On Friday, she recalled surviving the earthquake and its aftermath.
• • •
"I was watching TV and so happy to have the electricity," she recalled. In Haiti, the electricity comes and goes — about five hours at a time.
At 4:20 p.m. that Tuesday, a close friend stopped by to visit. They conversed about the cold weather in Florida, which led to a discussion about natural disasters in California. While they were visiting, Olivier (pronounced Oh-LIV-e-yay) was running back and forth in the room.
At 4:50 p.m., they heard a loud bang.
"It sounded like an accident, like a big truck had hit the house. The sound continued, then I started to see everything, everywhere shaking," Esperance said.
Her friend grabbed Olivier and carried him in front of his chest. Esperance grabbed her friend's shoulder and they began to run.
"We took three or four steps and then the house collapsed with us. I couldn't see anything. I thought we were dead."
They were buried in rubble and the earth was still shaking.
Esperance said she kept thinking of her son, 12-year-old Sebastian Edward Joseph, who was in Lawrence with his uncles. She wondered who would take care of him.
Forty minutes later, they were able to escape.
When asked how they got out, she responded, "God first, and I was with my friend."
They were able to push a wall that was on top of them. Once out, she said it was complete darkness.
What did they do?
Esperance took a deep breath, looked up and said, "I couldn't do anything. I couldn't cry because I saw so many dead people and so many people injured. I started to yell.
"I thought I lost my family. I thought I lost everybody."
She has 11 brothers and sisters. Three of her brothers live in Lawrence, and the rest live in Port-au-Prince, along with her 69-year-old father.
Photo Gallery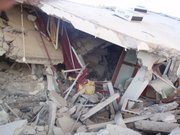 Photos of Haiti devastation
These are pictures the missionaries took of the devastation they witnessed in Haiti as they tried to find three prominent church leaders trapped in the rubble of the recent earthquake.
Photo Gallery
Earthquake strikes Haiti
• • •
It was Wednesday afternoon when she saw her first family member — a cousin who noticed Olivier as she was searching for aid and family. Later that day, Esperance also was reconnected with an older brother and his daughter.
Through them, she learned that her father and other siblings had survived.
The family had lost everything. They didn't have food, water, shelter or even shoes, but they had one another. At the time, that was all that mattered.
At 11 p.m. Wednesday, Esperance started to doze off — getting her first sleep since the quake, but was abruptly awakened.
"I heard a noise, 'Wake up. Wake up,'" she said. "People were yelling and crying. Then, I heard, 'Water. Water. Tsunami, Tsunami, tsunami.' We didn't know what to do and we thought we were going to die.
"We started to run. Run. Run. Run. Run. We didn't know where to go," she said.
They were looking for a hill or higher ground, but it was pitch dark. Her son started to sing the "Alphabet Song" in English, which drew unwanted attention. She told him to "shush" because they didn't want to become victims of crime.
After 40 minutes of running, they realized there wasn't a tsunami.
"So, then we walked and walked, and I fell over a dead body, and we just like … ." Esperance couldn't finish the sentence. The memories are still vivid and painful.
"I could never imagine that I would be in that situation," she said. "I really love to help people and I couldn't, and I was running to save my life and my family. I couldn't help them."
She couldn't even help her son, who kept asking for water.
• • •
"For the first five days, my son and I were sleeping on the street," Esperance said. "We couldn't find food. We couldn't find water."
On Friday, after walking for an hour, Esperance found a man who was handing out energy drinks. The next day, she received water. Eight days after the quake, Olivier drank powered milk, and his mom bought him hot dogs and fruit. The food was expensive, so she did without.
"We really didn't get food until two weeks later," she said.
That's when family members walked two to three hours to get rice. That's the only type of food that Esperance consumed during the 23 days in Haiti after the quake.
• • •
Meanwhile, Esperance's family in Lawrence was worried and struggling to find information.
"I was really sad," Sebastian said.
They looked on the Internet and watched television, searching for answers. It would be a week before they finally got a call from Esperance.
"Her voice didn't sound the same. To me, she sounded really weak," Sebastian said. "I said, 'I miss you and I love you.'"
• • •
By Feb. 4, Esperance had worked out arrangements to return to Lawrence, where she has lived since 2004. It was a weeklong journey. They traveled by car to the Dominican Republic and then flew to Puerto Rico, Miami, Georgia and finally Kansas City.
They were back in Lawrence on Feb. 11.
"It was a happy day," Esperance said. "When I was in Haiti, I didn't cry at all and I couldn't cry."
Back home, she was finally able to release pent-up emotions.
"She cried. I cried," Sebastian said. "I was excited to see my brother. I was happy again. I didn't have to worry anymore.
"I thank God for what he did for protecting my family because I prayed for them every night."
His mom fasted for three days when she got back. She observed the days of mourning along with Haitians back home to mark the one-month anniversary of the earthquake.
Help Haiti
"Lawrence Rocks 4 Haiti" is a benefit concert for the American Red Cross.
It begins at 8:30 p.m. Thursday at The Granada, 1020 Mass. It is expected to last until 1 a.m.
The cost is $5.
Among the Lawrence acts performing: Lloyd Likes Mike, The Snuggle Bugs, Afro Unity Ent., Andrew Frederick, Panda Circus, DJ Godzilla and Tyler Gregory.
Fritz-Gerald Esperance is a member of Afro Unity Ent., and his sister is earthquake survivor Rachelle Esperance, of Lawrence. Fritz-Gerald came to Lawrence as part of the Haitian singing group Meli Melomane. Members of the group received scholarships to study music at Kansas University.
"Lawrence Rocks 4 Haiti" T-shirts are available at Acme T-shirt Shop, 847 Mass. Prices range from $5 to $10.
• • •
Although Esperance and Olivier are home, the suffering isn't over.
"We are traumatized — very, very traumatized," she said. "We can't hear noise. For example, (last) Sunday, I heard the wind outside and he started to run and I thought the same thing, too. I ran to the window to see what was going on.
"I can't sleep at night, and neither can Olivier."
Esperance has pain in her back, knee and left side. She can't sit or stand for extended periods.
Since she has no health insurance, close friends paid for a visit to a walk-in clinic where she received medication and a referral to Health Care Access, a clinic that serves low-income, uninsured residents. At the walk-in clinic, she was told that there could be fluid in her knee and that she might have injured her spine. A doctor said she needed to be tested.
Unaware of the nine-week wait to get an appointment at Health Care Access, she was turned away on Tuesday morning because there were no appointments left. She returned Thursday to fill out paperwork and agreed to sit in the waiting room in hopes that someone would cancel an appointment.
The wait paid off. She received an examination and prescription for pain medicine. She also had tests done at Lawrence Memorial Hospital. She is awaiting the results.
Her son — who receives medical care through HealthWave, a state program — escaped with scratches, but emotionally he is not well. He frequently talks about how monsters and spiders are after him. Every night, he wants someone to hold and protect him. He will tell his mom, "harder, harder" because she isn't holding him tight enough.
Esperance said they both need psychological help.
"Sometimes, I feel like I am going to go crazy," she said. "I have really bad memories."
• • •
Esperance has received a lot of emotional and financial support from Lawrence residents John and Virginia Gaunt, whom she calls Grandpa and Grandma. The Gaunts' granddaughter and Sebastian are close friends and go to Hillcrest School together.
"Rachelle's been through a whole lot, and she's tried to push hard, and she wants a better life," Virginia Gaunt said. "I am trying to help her fight to get her body back in condition so she can continue schooling."
Esperance wants to become a nurse and help take care of people, like those suffering in Haiti.
• • •
Esperance's family in Haiti is still sleeping on the streets because of aftershocks. She tries to call them every four to five days, but it's not easy.
"You have to keep calling and calling and calling" their cell phones, she said.
On Saturday, she talked to a niece who said it was raining and they didn't have tents.
"They still have nothing, but they are doing OK," Esperance said.
Copyright 2018 The Lawrence Journal-World. All rights reserved. This material may not be published, broadcast, rewritten or redistributed. We strive to uphold our values for every story published.