Winter Weather
Winter weather information
Kansas weather updates, via Twitter
Photo Gallery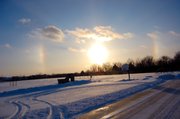 Winter Weather 2009-10
1:06 a.m.
Despite varying estimates, the Lawrence area can still expect significant snow accumulation — 4-7 inches — today, said 6News Meteorologist Matt Miller. A winter storm warning also remains in effect until 6 a.m. Monday, according to the National Weather Service.
Miller said the snow accumulation will occur during the day today, tapering off by the evening. The ice from Saturday night and early this morning — up to an inch — should stick around, thanks to below-freezing temperatures throughout the morning.
Miller warned of potentially hazardous road conditions throughout today.
Temperatures are expected to remain in the 20s and 30s through Monday night, when they'll dip to the teens, before warming up to highs in the mid-30s on Tuesday.
— Shaun Hittle
9:58 p.m.
The snow continues to fall in Lawrence and the temperatures are dipping below freezing.
Roads in Douglas County are wet and slick in some spots, but emergency dispatchers said no roads in particular were more hazardous than others. There have been numerous reports in Douglas and surrounding counties of cars sliding off the roads, though most of the activity took place about 6 p.m.
The National Weather Service is currently predicting occasional periods of wintry mix or freezing rain, which will continue to make driving more difficult. The NWS advises staying off the roads if at all possible.
Winds are also expected to pick up into Sunday afternoon, making the possible 4 to 7 inches of snowfall more troublesome for travelers. Snow is expected to subside by Sunday evening.
8:30 p.m.
While the National Weather Service scaled back snowfall estimates for the area from 4 to 7 inches to 2 to 4 inches, 6News Meteorologist Matt Miller said recent computer models show the Lawrence area can still expect 4 to 7 inches of snow on Sunday.
Tonight, Miller said to expect ice and freezing drizzle. "I think it's going to be a bad night," he said.
The ice will stick thanks to above-freezing temperatures Sunday morning, followed by the heavy snowfall throughout the day, tapering off by Sunday evening.
4:10 p.m.
The most recent bulletin from National Weather Service calls for snow accumulation totals ranging from 2 to 4 inches in an area of northern Kansas that includes Lawrence. The most dangerous part of this weekend's storm could be ice, as ice accumulation is projected to fall in the range of 1/10th of an inch to 1 inch.
Precipitation should pick up intensity later tonight. The heaviest period of snowfall is projected to come Sunday afternoon.
The National Weather Service warns that travel could be very hazardous or impossible because of the significant ice accumulation.
11:30 a.m.
The National Weather Service has upgraded Douglas and surrounding counties to a winter storm warning running through 6 a.m. Monday.
The most recent forecast calls for widespread precipitation beginning tonight and continuing through Sunday afternoon before tapering off Sunday night. The most significant precipitation is expected to fall early Sunday morning through mid-afternoon Sunday.
Anywhere from 4 to 7 inches of snow accumulation is expected along with some sleet in the area south of Interstate 70. Blowing snow and snowpacked roads will create poor driving conditions from dawn Sunday morning through at least Sunday evening.
4:09 a.m.
The light rain that had been falling has stopped for the time being but is expected to continue later in the day Saturday.
The National Weather Service is suggesting the precipitation that begins falling Saturday afternoon will turn to snow and sleet by Saturday night, which is what 6News meteorologist Matt Elwell was also predicting.
Temperatures are supposed to stay near freezing, currently expected to be about 31 degrees. Elwell said the temperatures will play a large role in just how much snow will accumulate in the area. The temperatures aren't expected to drop until Sunday evening, when the majority of the storm has already passed.
Driving conditions during the weekend will depend on temperatures too. Conditions will most likely be wet, with slick areas possible. If the snow sticks on the ground, be on the lookout for snowpacked and icy roadways.
12:00 a.m.
A winter storm watch issued by the National Weather Service in Topeka will go into effect Saturday evening for Douglas and surrounding counties.
According to 6News meteorologist Matt Elwell, the amount of snow that accumulates in Lawrence will depend heavily on the temperatures during the weekend. Elwell predicted the Lawrence area could see anywhere from 2"-4" of snow accumulation between Saturday evening and early Monday morning.
5:28 p.m. Friday
Another round of winter weather is on its way to northeast Kansas.
The National Weather Service announced a winter storm watch for Douglas County and surrounding areas beginning Saturday evening.
According to 6News meteorologist Matt Elwell, the weekend forecast is complex, with temperatures dictating how much snowfall Douglas County will receive. Elwell said he expected 2 to 4 inches of accumulation during the snowstorm, which could last from overnight Saturday until the predawn hours Monday.
"It's going to stay as rain Saturday evening with temperatures near the freezing mark," Elwell said. "Overnight we could see snow start to move in, and Sunday I think we will completely turn over to snow."
The heaviest snowfall should arrive in Lawrence between noon and 8 p.m. Sunday, along with a good chance for blowing snow and winds as strong as 20 mph, Elwell said.
The city of Lawrence plans to resume 24-hour snow removal operations at noon Saturday, according to assistant public works director Mark Thiel. Lawrence conducted road treatment operations between midnight and 6 p.m. Friday in anticipation of a storm that brought mostly rain.
The rainy forecast leading into this storm could make road treatment tricky for city crews.
"The bad part is rain precludes us from any pre-treatment because the water just washes it into the storm sewers," Thiel said.
The city's snow removal and ice control policy along with maps of snow removal routes can be found at lawrenceks.org/public_works/snow_ice.
Copyright 2018 The Lawrence Journal-World. All rights reserved. This material may not be published, broadcast, rewritten or redistributed. We strive to uphold our values for every story published.