Past Event
When: Sunday, February 21, 2010, 5 p.m.
Where: Brown v. Board of Education Museum, 1515 SE Monroe Street, Topeka, KS
Cost: Free
-->
-->
Teresa Cuevas will be 90 years old in April. She's a grandmother many times over, attends her Topeka church every Sunday and is impossibly sweet. She's the prototypical abuela in virtually every way, save one — Cuevas, as a member of the trailblazing band Mariachi Estrella de Topeka, is a living legend in Mexican music circles. This soon-to-be nonagenarian is also about to be a movie star. But she's far too modest to admit such things.
"No, no, no! I'm not going to be a movie star! I'm too old to be a movie star," Cuevas insists. Yet in the new film "Mariachi Estrella," Cuevas and her former bandmates will be immortalized.
The short documentary tells the improbable story of Mariachi Estrella de Topeka, the first all-female mariachi group not only in Kansas, but perhaps the entire United States. These seven women — Cuevas, Linda Scurlock, Isabel "Bole" Gonzalez, Dolores "Lola" Galvan, Rachel Galvan Sangalang, Connie "Chae" Alcala and Dolores "Lola" Carmona — began as church musicians at Topeka's Our Lady of Guadalupe in the '70s but rose to prominence in 1980 and 1981.
"Not only were these the first women mariachis in the country, but they were the first mariachis — men or women — in Topeka," says Lawrence filmmaker Marlo Angell, who produced "Mariachi Estrella" as husband Peter Jasso directed. "That's part of the fun of the film, is watching how they started. They got instruments from Mexico and brought them to Topeka because there was no one playing these instruments. With mariachi there are two instruments, the vihuela and the guitarrón, and no one in Topeka knew how to play these instruments. They had to start from scratch, and most of them were self-taught musicians."
The women came together after a new priest from Guatemala wanted livelier music in the church choir and encouraged his parishioners to study the boisterous folk music of Mexico. After attending a mariachi conference in San Antonio in 1980, Cuevas says the choir girls all caught "mariachi fever." They returned to Topeka, rehearsed diligently, had women's mariachi regalia tailor-made for them, then set about playing shows around Kansas.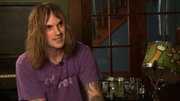 "At the time, because I was a kid, it didn't seem like a big deal that they were seven females doing mariachi music," says Kliph Scurlock, son of trumpeter Linda Scurlock, himself now a musician as drummer for The Flaming Lips. "But the more I learn about it as it comes out over the years, they might have been the first all-female mariachi band. I think that's really cool. I'm sure they got a hard time here and there from people saying, 'No! Only guys can play this.'"
If there were such protests, it certainly didn't deter these up-and-coming musicians. "I never thought whether it was proper, I just wanted to do it," Cuevas says.
But just as quickly as Mariachi Estrella de Topeka was taking off, things took a startling and horrific turn. On July 17, 1981, the band was scheduled to play at the Hyatt Regency in Kansas City. It was a day that would be remembered for one of the worst structural disasters in United States history, when two walkways would collapse inside the hotel, killing 114. Mariachi Estrella de Topeka happened to be on one of those walkways that day.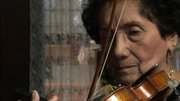 "We were going to perform for the Fuller Brush company," Cuevas recalls. "We were going to a room to put our outfits on, and when we were walking across the skywalk, all of a sudden it felt like you were falling. It was terrible. When I woke up I was down underneath a lot of rocks and heavy rubble. Beside me was a big, heavy man. He kept saying, 'What happened? What happened?' The only thing I could move was my left hand. I said, 'Well, I guess I'm going to die.' I made my peace with God. But then I thought, 'I don't want to die here.' All of a sudden I began yelling in Spanish, 'God help me! God help me!' And someone heard me. He said, 'We have a live one.' I told him, 'Don't leave me here.' He said he had to get people to get the rocks off of me. I don't know how long it took because I don't remember anything after that."
After she awoke, Cuevas learned that Linda Scurlock, Dolores Galvan, Connie Alcala and Dolores Carmona had died. Only she and Rachel Galvan Sangalang survived the crash (Isabel Gonzales was not there that day). "Sometimes I can talk about it, and now I don't get so emotional as I used to," Cuevas says. "I thank God that I'm still alive and I was able to enjoy my life with my family. I'm very grateful."
This brief yet remarkable career, marred by profound loss, has made Mariachi Estrella de Topeka almost mythic figures in the Kansas Latino community. "The inspiring thing about it is their legend really continues to this day and people continue to be inspired by their story," says Angell, who received a grant from the Kansas Humanities Council to tell that story in film, which premieres this weekend at the Brown vs. Board of Education Museum in Topeka.
"Their lives touched so many people. It's truly an emotional film because it captures, from the beginning, the excitement, the fun, the camaraderie of these women. And then you have the tragedy, which is very emotional, because you get to know the women and then you lose some of them. At the end, you're left with this kind of inspirational feeling because these women went out and did something, and you sort of feel like you can do something, too."
The film hopes to not only inspire viewers but serve as tribute to those four women who are no longer with us. "For purely selfish reasons I think it's important to tell this story because I can go, 'Hey, that's my mom! She was awesome,'" Scurlock says. "I think it's a great story about these gals that just decided they want to do this thing and so they did it. They pursued it and did pretty well. If you believe in what you're doing and want to do it, and put your love into it, it can pay off. You can do amazing things."
Teresa Cuevas, while initially reluctant, is ready for her close-up. "I'm looking forward to it," says Cuevas of seeing "Mariachi Estrella." "My family is proud of me, I know they are. We kept at it, the girls and me. We had a lot of fun when we played. I think when you're doing something that you're doing yourself, you feel very fortunate. It gives me a lot of peace. It has been a very good thing in my life."
Copyright 2018 The Lawrence Journal-World. All rights reserved. This material may not be published, broadcast, rewritten or redistributed. We strive to uphold our values for every story published.