Photo Gallery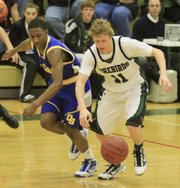 Free State boys vs. Olathe South
Photos from the FSHS boys basketball matchup against Olathe South on Friday, February 19, 2010.
If you think Olathe South's boys basketball team is good, you should see the Falcons' girls.
After a twinbill sweep of Free State on Friday night, O-South ran its combined record to 33-1.
The O-South girls remained unbeaten (17-0) with a 58-41 triumph over the Firebirds, while the boys climbed to 16-1 with a 55-45 triumph in the nightcap.
"We don't have the quickness they have," said senior Ryan Scott, who led Free State with 14 points. "We haven't seen that quickness since we played Wichita North."
Nevertheless, the Firebirds (7-11) came out swinging, racing to a 13-8 lead after a quarter.
"We came out with our guns blazing," junior Eric Watson said, "and our shots were falling."
But then the turnovers began to mount, and O-South outscored the Firebirds, 35-13, during the second and third quarters. Typical were the last 51⁄2 minutes of the third stanza, when the Falcons forced six TOs during an 11-0 run.
"All we talked about in practice was not turning the ball over against them," Free State coach Chuck Law said, "and that's all we did in the second and third quarters."
Even with starter Robbie Gaines hampered by foul trouble and with Kaz Boyd, another starter, suffering a shoulder injury in the third quarter, the Falcons rarely allowed an open shot.
And then there were the Firebirds' 18 turnovers.
"They're not a great halfcourt team," Law said, "but the difference is turnovers. That's what they feed off of … like sharks in water."
If the Falcons were sharks throughout, the Firebirds turned into barracudas late. Lagging by 18 points with three minutes left, Free State started forcing giveaways of their own and, if nothing else, made the score more respectable.
"Yeah, that could have gotten ugly," Law said. "We could have lost by 25 or more, but we made it somewhat interesting."
Scott scored 9 of his 14 points in the fourth quarter.
"We seem to start playing like that when we get behind," the 6-foot-4 senior said. "That's how we should play when we're ahead."
Copyright 2018 The Lawrence Journal-World. All rights reserved. This material may not be published, broadcast, rewritten or redistributed. We strive to uphold our values for every story published.