Winter Weather
Winter weather information
Kansas weather updates, via Twitter
Photo Gallery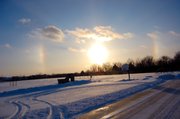 Winter Weather 2009-10
5:28 p.m.
Another round of winter weather is on its way to northeast Kansas.
The National Weather Service announced a winter storm watch for Douglas County and surrounding areas beginning Saturday evening.
According to 6News meteorologist Matt Elwell, the weekend forecast is complex, with temperatures dictating how much snowfall Douglas County will receive. Elwell said he expected 2 to 4 inches of accumulation during the snowstorm, which could last from overnight Saturday until the predawn hours Monday.
"It's going to stay as rain Saturday evening with temperatures near the freezing mark," Elwell said. "Overnight we could see snow start to move in, and Sunday I think we will completely turn over to snow."
The heaviest snowfall should arrive in Lawrence between noon and 8 p.m. Sunday, along with a good chance for blowing snow and winds as strong as 20 mph, Elwell said.
The city of Lawrence plans to resume 24-hour snow removal operations at noon Saturday, according to assistant public works director Mark Thiel. Lawrence conducted road treatment operations between midnight and 6 p.m. Friday in anticipation of a storm that brought mostly rain.
The rainy forecast leading into this storm could make road treatment tricky for city crews.
"The bad part is rain precludes us from any pre-treatment because the water just washes it into the storm sewers," Thiel said.
The city's snow removal and ice control policy along with maps of snow removal routes can be found at lawrenceks.org/public_works/snow_ice.
3:36 p.m.
The National Weather Service has announced a winter storm watch for Douglas and surrounding counties beginning Saturday evening and lasting through late Sunday night.
According to the National Weather Service, a large winter storm will move through northeast Kansas on Saturday night and Sunday. Precipitation is expected to begin Saturday night, with the heaviest snow and ice falling Sunday afternoon through Monday. The heaviest snowfall is expected to stay north of Douglas County, but the Interstate 70 corridor is expected to see snow and ice. Ice will impact travel during the storm, and by Sunday night blowing snow could become a travel hazard.
Winds should pick up Saturday afternoon and reach the 15-to-25 mile per hour range, with gusts as strong as 35 miles per hour. Temperatures are expected to top out at about 30 degrees on Sunday.
Copyright 2018 The Lawrence Journal-World. All rights reserved. This material may not be published, broadcast, rewritten or redistributed. We strive to uphold our values for every story published.