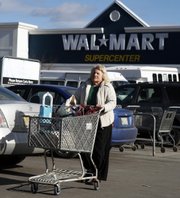 New York — After nearly 50 years of hammering competitors with discounts, Wal-Mart is getting a taste of its own medicine.
The world's largest retailer has reported sales at its U.S. Walmart stores falling for the first time, as price-cutting competitors lure away bargain-hunters. Department stores and dollar stores are muscling in on the company's discount turf.
And executives do not expect much improvement in this quarter, forecasting sales at stores open at least a year will range from down 1 percent to up 1 percent.
"They're being squeezed from the top … and from the bottom," said Michael Hicks, associate professor of economics at Ball State University who wrote a book about Wal-Mart's economic impact.
Overall, Wal-Mart's overseas growth and a concerted cost-cutting campaign pushed profit up 22 percent in the fourth quarter. Wal-Mart earned $4.63 billion, or $1.21 per share, up from $3.8 billion, or 96 cents per share, in the same quarter last year. Excluding businesses that the company no longer operates, it earned $1.23 per share.
The 0.5 percent sales decline reported Thursday covered the three months ending Jan. 31 at the company's namesake stores. It was the first year-over-year quarterly decline since Wal-Mart Stores Inc. went public in 1969.
Department stores such as Macy's and Kohl's came into the holiday season ready to compete on price and saw sales rise as a result in December and January.
On the other end, discounters like Family Dollar Stores have added more groceries. And even Sears Holdings Corp.'s long-suffering Kmart has seen a rebound in sales. Target Corp., increasing its food offerings and focusing on low prices in its advertising, is slated to report fourth-quarter results Tuesday.
Organic grocer Whole Foods Markets Inc., often known as "Whole Paycheck" for its high prices, even got into the price-cutting game, helping bring back customers who left in the recession.
Wal-Mart's own parade of holiday discounts had less effect, as the chain drew fewer shoppers who spent less per trip. The weak U.S. sales underscored the financial pressures the company's customers continue to face and raised concerns about its ability to keep new and more affluent shoppers, who are seeing an abundance of cheap options.
Wal-Mart officials said that deflation in such areas as electronics and groceries was the biggest factor in dampening sales, but the company's chief financial officer, Tom Schoewe, acknowledged "tough" competition from rivals. The company also cited a massive store renovation program as keeping some customers away.
Schoewe said falling prices for food and electronics, which have helped to drag down revenue for the past three quarters, were worse than expected. Groceries make up about half of Wal-Mart's business.
Copyright 2018 The Associated Press. All rights reserved. This material may not be published, broadcast, rewritten or redistributed. We strive to uphold our values for every story published.