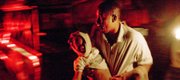 A 7.0 magnitude earthquake occurred 10 miles southwest of Port-au-Prince on Jan. 12, causing widespread devastation in Haiti's capital and throughout the country.
Washcloths arrived before water, and senators before surgeons. In the first chaotic days after Haiti's earthquake, some vital aid was forced to wait because the U.S. military took relief flights at the Port-au-Prince airport on a first-come, first-served basis, according to landing logs.
The logs, reviewed exclusively by The Associated Press, document who flew in before and after the U.S. Air Force assumed control of the landing strip that was the sole lifeline for relief. They largely disprove accusations from some humanitarian groups that the U.S. held up aid in favor of military flights.
The Air Force did initially give priority to military units that were sent to secure the airport, distribute aid and keep the peace. But then it started taking flights according to a reservation system open to anyone.
Because of that, key aid was delayed in some cases while less-critical flights got in.
Nearly all the groups sending in aid insisted their load was urgent, said Air Force Capt. Justin Longmire, who has been coordinating the flight schedules and is helping prepare the airport to reopen for commercial flights today.
"Could I take the list of all the flights and put it in order of most important to least important? Water? Food? Digging equipment? Doctors? I don't think so," Longmire said.
The result: Church of Scientology ministers landed, as did AP reporters, CNN's Anderson Cooper and diapers from Canada. But a French portable hospital and planeloads of doctors with medical supplies were diverted to the Dominican Republic.
Planes carrying half of a Norwegian field hospital landed in Port-au-Prince, while those carrying the other half were diverted to the Dominican Republic and had to be trucked in over the mountains, delaying the opening of one of Haiti's first post-quake field hospitals.
"It was extremely frustrating," said Norwegian Red Cross spokesman Jon Martin Larsen.
When the quake hit, the global crush of compassion turned the Haitian capital's airport into a virtual baseball catcher with "pitchers throwing balls from all directions all at the same time," as Air Force Lt. Gen. Glenn F. Spears put it.
Before the quake, the single, 10,000-foot runway had handled 20 flights a day without radar, with pilots landing visually with the help of controllers on radios. Afterward, traffic on the runway soon rivaled that of any at Chicago's O'Hare Airport on a busy afternoon, with planes landing or taking off every two minutes.
With the seaport in ruins, hundreds of planes loaded with missionaries, medical teams and military forces dashed to Haiti without designated landing times and only 10 spaces for large planes to park. There was no room on ramps for planes to unload their cargo, and some planes didn't have enough fuel to leave.
The traffic snarls in the air were exceeded by utter chaos on the ground. For days the airport was packed with aid workers, journalists, airport employees and others with nowhere else to go. They slept on luggage carousels, fought over space for their equipment and dodged rats.
"It was a madhouse," said Air Force Brig. Gen. Bob Millmann, an adviser on airlift operations in Haiti. "We saw a situation that was untenable, like stuffing 5 pounds of sand into a 3-pound sack."
Copyright 2018 The Associated Press. All rights reserved. This material may not be published, broadcast, rewritten or redistributed. We strive to uphold our values for every story published.